Exclusive
Bad News Boyfriend? Kylie Jenner's Man Tyga Settles Claim He 'Coerced' Young Women To Pose Nude!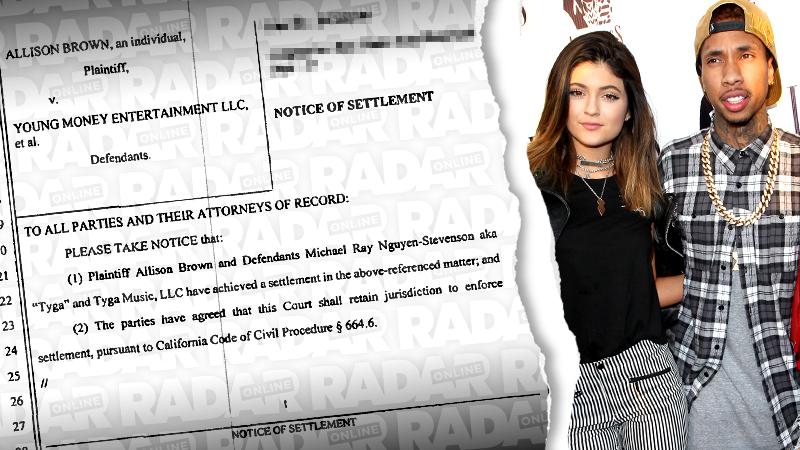 Is Kylie Jenner in over her head with rumored boyfriend Tyga? RadarOnline.com has exclusively learned that the 17-year-old reality star's 25-year-old man just settled a lawsuit over claims that he and his record label "coerced young and impressionable under-age women to pose nude."
In the suit, which was filed on Sept. 20, 2013 and settled at a hearing Wednesday, plaintiff, Allison Brown claimed that she "was invited to the location of the music video – a large mansion in the Hollywood Hills – where she, and a group of similarly situated women, are served unlimited amounts of alcohol while they 'wait' for Tyga to arrive at the shoot," according to court documents obtained by Radar.
Article continues below advertisement
READ HER EXPLOSIVE CLAIMS HERE
"After hours of being encouraged to drink (without verification of the victim's age), the victim is summoned to the room where the scene is filmed," the documents state. "After one or two takes, the director and the crewmembers (i.e. camera operators) encourage the victim to remove her clothing. Still under the influence of alcohol, the victim is successfully pressured to remove her clothing contingent on the promise that her intimate areas (i.E., nipples) will be 'edited out.'"
The lawsuit also alleged that "Defendant, Tyga, shirtless, was the centerpiece of the scene, where girls were asked to dance in a sexually suggestive manner on and around him while Tyga's song, 'Make It Nasty' was played as background music and Ms. Brown was told to dance with the music."
According to the papers, Brown sought damages against "Young Money Entertainment, LLC; Michael Ray Nguyen-Stevenson aka 'Tyga'; Cash Money Records, Inc. and Tyga Music LLC" for "Sexual Battery, Misappropriation of Likeness, Invasion of Privacy, Fraud and Deceit, Negligent Misrepresentation, Unfair Business Practices and Intentional Infliction of Emotional Distress."
Article continues below advertisement
Although there was not a complete dismissal at the hearing on Wednesday, Brown, who was seeking "damages suffered by the plaintiff in an amount to be determined, punitive damages, prejudgment and post-judgment interest, attorney's fees and costs and such other relief as the court deems just and proper" court documents filed on December 16 said she and Tyga had "achieved a settlement."
However, the terms of that settlement were sealed.
Meanwhile, a source told Radar that insiders believe this is just another sign that the love match could end in heartbreak for Jenner.
"The Kardashians know about this. Everyone does," the insider says.
"I think Tyga is a creep and is trying to ride on Kylie's fame," the source continued. "He has tricked her …"
http://instagram.com/p/wszUFCnGnd/?modal=true
As Radar previously reported, Jenner's family "almost unanimously disapprove of underage Kylie dating Tyga." Her older sisters Kim, 34, Kourtney, 35 and Khloe, 30, also don't support the relationship "because he is the father of her Kim's BFF Blac Chyna's 2-year-old son, King Cairo Stevenson," according to a source.
Do you think that Kyle Jenner should be dating Tyga? Let us know in the comments below.