Delusional? Troubled Teen Mom Leah Messer Calls 2014 The 'Best' Year Of Her Life!
Marital problems, drug rumors, a bitter custody war: It's all no big deal to Leah Messer!
The Teen Mom 2 star took to Twitter on Christmas Day to sum up her past year.
"I thought 2014 was going to turn out to be the worst year of my life, but after Dec. 8 it turned out to be the BEST," she posted to her 1 million followers on December 25.
"NOW, Bring on 2015!!" she continued.
As RadarOnline.com exclusively reported, a West Virginia judge ordered the 22-year-old mother of three and her ex-husband Corey Simms, 25, to share custody of their 5-year-old twins Ali and Aleeah on December 8.
Article continues below advertisement
Simms had previously been gunning for full custody, claiming his former wife was an incompetent mother.
Despite the small court victory, Messer has undoubtedly had a difficult year. First, Radar revealed that friends of the MTV reality star were concerned about her escalating prescription painkiller use. She was even caught nodding off on camera during a summer episode of her hit series.
Then her husband Jeremy Calvert, he father of her 22-month-old daughter Adalynn, publicly accused her of cheating with ex Robbie Kidd, 22. Though Messer denied the claims, Kidd later confessed to their sexual tryst.
Radar then reported that the pipeline engineer, 25, sent sexy texts and private Twitter messages to hot single mom Brittany Musick, 27, trying to hook up in person for a romantic night.
However, Messer still seems set on saving her marriage. After tweeting about her "best" year ever, she posted that "the Calvert fam" had a holiday "full of blessings" and "too much food."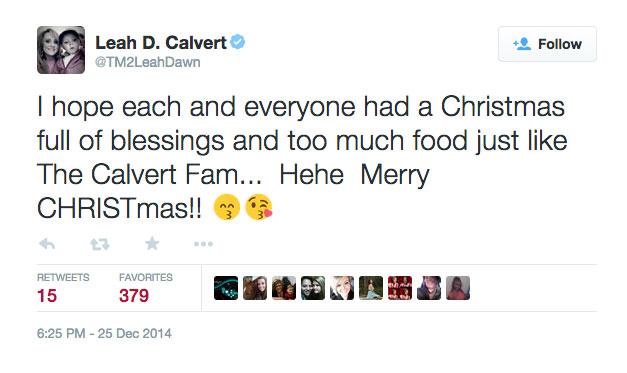 Is Leah crazy to call 2014 her best year ever? Sound off in the comments.