Exclusive
Sam Worthington Says It's OK He Punched Photog — He 'Knew The Hazards'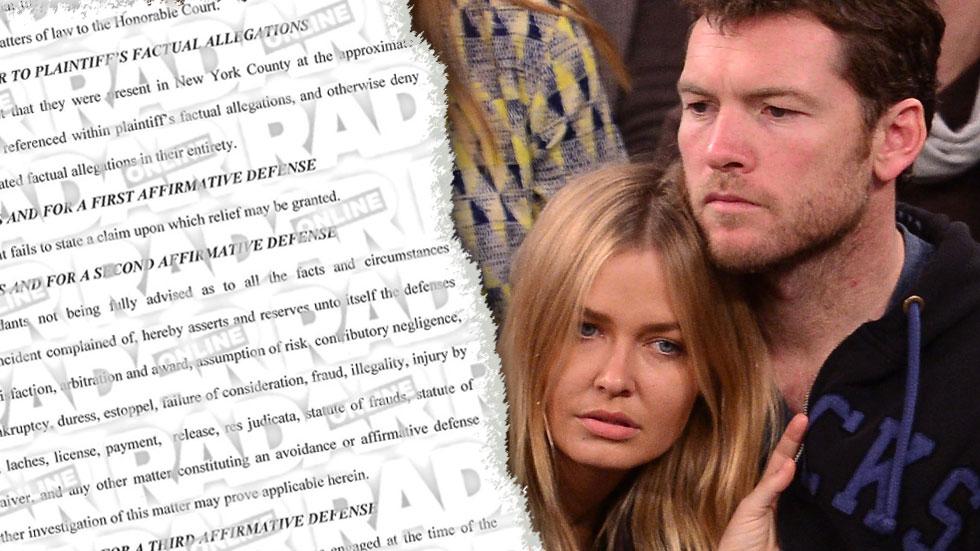 Sam Worthington argues a paparazzo he punched is responsible for his own injuries because getting attacked is a normal risk when following a celebrity, according to court documents obtained exclusively by RadarOnline.com.
The Avatar actor's answer to photographer Sheng Li's federal lawsuit contends that Li "knew the hazards" of doing his job and "such risks were assumed and accepted by him in performing and engaging in said activities."
Article continues below advertisement
Li wants $10 million from Worthington, 38, and girlfriend model Lara Bingle for shoulder and wrist injuries he claims he suffered in a scuffle with the couple on a New York sidewalk in February.
Hollywood's Most Hated Celebs! 57 Stars The World Can't Stand
Li's video camera recorded Bingle, 27, rushing toward him and shouting, "Stop following me!"
Li responds, "Don't touch me!"
Worthington then joins the fray moments later yelling, "You want to kick my wife?"
The 21 Most Outrageous Celebrity Feuds Of All Time
Bingle is later heard blasting the photographers who follow her as "parasites."
Worthington was charged with assaulting Li, but Li's lawyer accused the prosecutor of going easy on the actor because he was star-struck. Bingle was not charged in the case.
Lawyers for Worthington and Bingle argue that when Li decided to follow the couple with his camera he "knew the hazards thereof and the inherent risks incident thereto and had full knowledge of the ranges thereof."
The attorneys insist that any injuries "were caused by reason of such risks voluntarily undertaken by the plaintiff in his activities and such risks were assumed and accepted by him in performing and engaging in said activities."
If a jury decides to award damages to Li for the injuries, then the amount should be reduced by the percentage of "culpable conduct" they find the photographer contributed, lawyers for the defendant argue.