Sam Worthington Hit With Restraining Order In New York Assault Case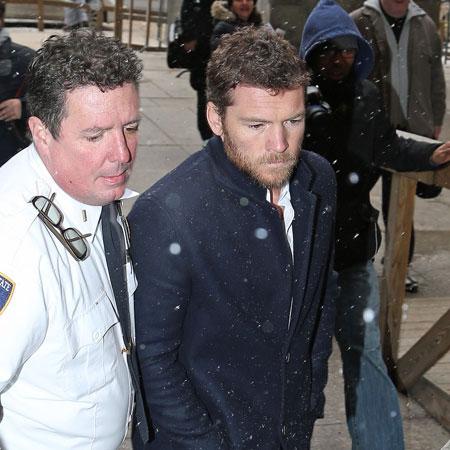 Australian-born actor Sam Worthington, who got into an altercation with a photographer in Manhattan at the weekend, was arraigned on assault and harassment charges Wednesday, RadarOnline.com has confirmed.
"I was only protecting my girlfriend," he told the police about the scuffle, according to prosecutors.
As RadarOnline.com previously reported, the 37-year-old star of Avatar punched paparazzo Sheng Li after he allegedly kicked the movie-star's girlfriend Lara Bingle, in an incident outside a Greenwich Village bar on Feb. 23.
Article continues below advertisement
During the court appearance Wednesday, Judge Brunat DiBiase issued the actor a temporary order of protection barring contact with Li.
The judge also excused Worthington's attendance at his next court date May 8 because the actor will be out of the country on a movie shoot.
According to Page Six, Li's defense lawyer Ron Kuby claimed Bingle incited the confrontation.
"Ms. Bingle was the one that attacked him. He was on the job taking pictures and Ms. Bingle got upset and ran half way up the block and attacked him. Her large famous boyfriend ran up and punched him four times in the face.
"It's outrageous he (Li) was charged at all and once the DA sees the video they'll drop the charges. But it depends on whether Cy Vance is a fan of Avatar", Kuby told reporters.
Li faces assault and harassment charges.