Exclusive
He Said, She Said: Mel B's Mom Blasts Stephen Belafonte Over 'Abusive' Phone Call He Says 'Never Happened!'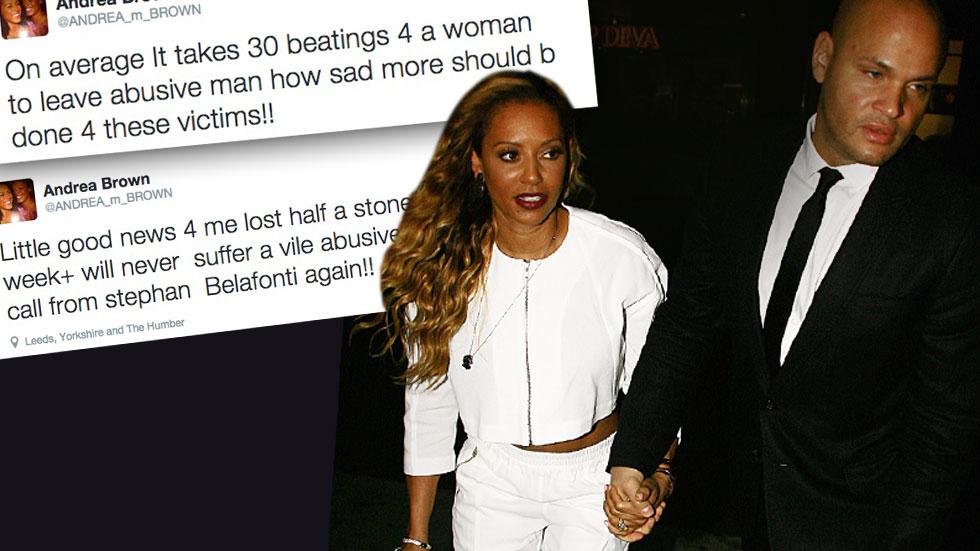 Spice Girl Mel B continues to remain silent after being hospitalized in London last weekend, but mother, Andrea, took to Twitter Thursday with new explosive claims of a "vile abusive"phone call from the singer's estranged husband, Stephen Belafonte, and hints that the mother of three has been physically abused.
Andrea Brown wrote on Twitter Thursday, "Little good news 4 me lost half a stone in 1 week+ will never suffer a vile abusive 3am call from Stephan Belafonti again!!....On average It takes 30 beatings 4 a woman to leave abusive man how sad more should b done 4 these victims!!"
Article continues below advertisement
The abuse rumors spread after Brown missed the live taping of the British X Factor on Saturday night, after being hospitalized for an unspecified illness.
When she returned to the show finale on Sunday night, not wearing her wedding ring, the former Spice Girl's fans noticed bruises on her arms, and assumed the worst.
Belafonte has vehemently denied any physical abuse. "It's absolutely ridiculous for anyone to say I physically abused Mel. It never happened," he previously told Radar.
Now, he insists, "I never called Mel's mom. It never happened. Mel is estranged from her mom."
Meanwhile, Mel B remains in a London hotel, with two children, Phoenix, 15, and Angel, 7, while Stephen returned to Los Angeles with their daughter, Madison, 3.