Leah Messer Slams Ex Corey Simms' Marriage— And Claims She & Hubby Jeremy Calvert Are Still 'Very Much In Love' Despite Cheating Scandal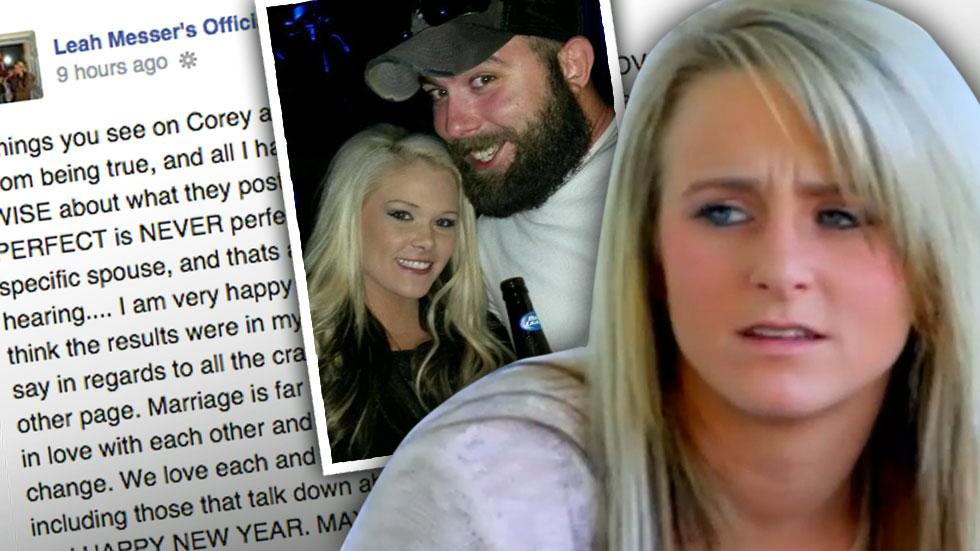 The custody battle may be over, but the war continues between Teen Mom 2 star Leah Messer and her ex-husband Corey Simms and his wife Miranda.
Earlier this month, the former couple, who split in 2011 after just five months of marriage, were ordered to abide by a joint parenting plan in West Virginia family court for their 5-year-old twins Ali and Aleeah, but as RadarOnline.com exclusively revealed, tension still lingered between the two parties.
Article continues below advertisement
Now Messer has taken to her official Facebook page to lash out about alleged posts on a page she believes belongs to the Simms.
"Things you see on Corey and Mirandas 'official and APPROVED page' is far from being true, and all I have to say about it is that they may want to be very WISE about what they post because a marriage that PRETENDS to be PERFECT is NEVER perfect," she wrote in the wee hours of December 19, before cryptically referring to trouble in the Simms' marriage. "Especially when there is way more not told to a specific spouse, and thats all im going to say."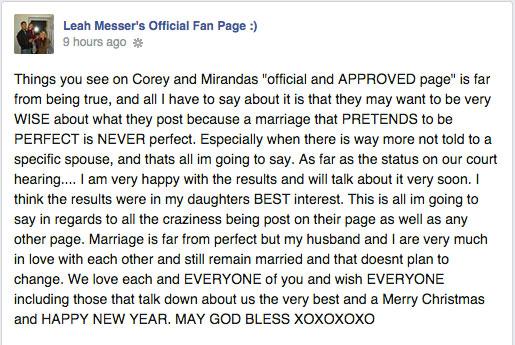 Messer has been dealing with serious marriage troubles of her own. RadarOnline.com exclusively exposed sexy messages and texts the 22-year-old mother of three's husband Jeremy Calvert, 25, sent to hot single mom Brittany Musick, 27, just before Thanksgiving. Meanwhile, Messer's ex Robbie Kidd, 22, has publicly confirmed rumors that he had sex with the MTV star in October.
In her angry Facebook post, Messer also touched on reports that she and the pipeline engineer had secretly split.
Article continues below advertisement
"Marriage is far from perfect but my husband and I are very much in love with each other and still remain married and that doesnt plan to change," she insisted.
Though she clearly has issues with her ex and his wife, Messer did claim to be satisfied with the court's decision on the custody dispute.
"I am very happy with the results and will talk about it very soon," she wrote. "I think the results were in my daughters BEST interest."
Now it looks like Messer exploded in vain, because Miranda is claiming that she and Corey don't even have a public Facebook page.
"Too bad that fan page is not official or approved by anyone in our family. We have no idea who runs it," she wrote this morning.
The Facebook page in question has since been deactivated.
Should Leah try to make peace with Corey and Miranda? Sound off in the comments.