Exclusive
Katherine Heigl Talks Haters & How Motherhood Now Keeps Her 'In Her Place'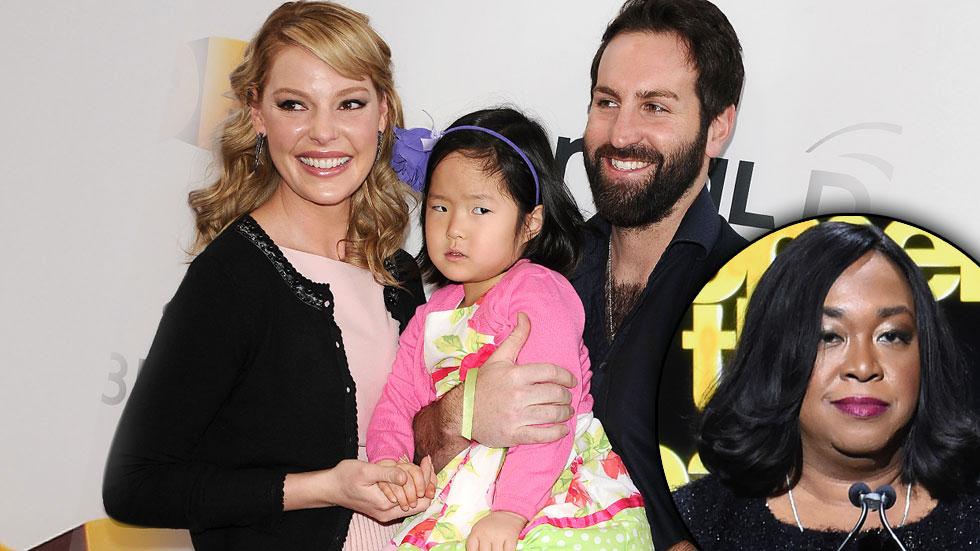 Katherine Heigl is well aware that in Hollywood it's often hard to let bygones be bygones.
"I have plenty of people that are more than happy to put me in my place," Heigl told RadarOnline.com exclusively at the Dec. 7 TrevorLIVE Los Angeles Benefit celebrating 's 16th anniversary.
As RadarOnline.com has reported, the actress is referring to Shonda Rhimes, the ABC powerhouse and Grey's Anatomy writer who blasted Heigl after she famously dissed her by declining consideration for an Emmy, claiming the writing for her Grey's role wasn't good enough to elicit a nomination.
Article continues below advertisement
Now Rimes is unwilling to just forgive and forget. The Hollywood bigwig took a dig at Heigl in October when she sniped that she has a strict "no a**holes" policy on her new megahit show Scandal.
"There are no Heigls in this situation," Rhimes told The Hollywood Reporter. "I don't put up with bullsh*t or nasty people. I don't have time for it."
When RadarOnline.com asked Heigl about the ongoing controversy she insisted, "I don't worry about that."
Instead, Heigl, who currently stars on NBC's State of Affairs, tries to focus on what she finds most important in life. "I love my parents. I love my friends and I love my husband," she said, referring to her singer husband Josh Kelly, with whom she has two children—Nancy Leigh, 6, and adopted-daughter Adalaide Hope, 2.
"I think the best part about being a mother is the overwhelming love that you get. The hardest part of being a mother is that you are hoping you are doing right by your kids and that you are raising them to be the kind of people that they and you can be proud of."
Article continues below advertisement
The 36-year-old actress added, "I am always worried, 'Am I messing this up? Am I not giving the right advice? Am I not steering them in the right direction? Am I working too much and not there enough?' I think the biggest concern as a parent is worrying that you are never doing quite enough."
The Trevor Project celebrated 16 years of its life-saving, life-affirming work, which provide crisis intervention and suicide prevention services to lesbian, gay, bisexual, transgender and questioning (LGBTQ) teens and young adults.
Do you think that Katherine deserves Shonda's anger for what she said when she pulled her name from the Emmy contender list? Let us know in the comments below.