'Separate, Yet Always Connected Paths': TV Chef Giada De Laurentiis Says She's Split With Husband Of 11 Years
Celeb chef Giada De Laurentiis announced Monday she's calling it quits with fashion designer husband Todd Thompson.
"After an amicable separation since July, Todd and I have decided to end our marriage," the 44-year-old TV personality said. "Although our decision to separate comes with a great deal of sadness, our focus on the future and overwhelming desire for our family's happiness has given us the strength to move forward on separate, yet always connected paths.
Article continues below advertisement
"Todd and I share a beautiful daughter and a lifetime of great memories that we both treasure more than anything."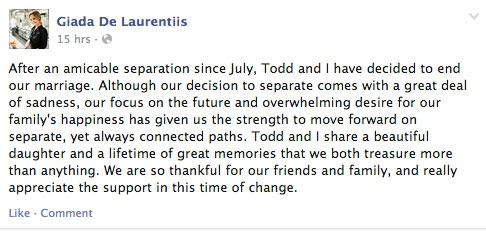 The Food Network personality, who wed Thompson in May 2003, thanked loved ones for their "support in this time of change."
The duo have a 6-year-old daughter named Jade Marie.
De Laurentiis three years ago opened up to Redbook about the challenges celebs face in relationships.
"I think it can be hard for any man to sometimes be upstaged by his wife; so when I'm home, I work very hard to be Todd's wife and Jade's mother," she said. "I have no problem going back to those traditional roles. I try to be Giada, the young girl that he met 20 years ago and fell in love with.