Exclusive
Giada De Laurentiis Has Bloody Accident Live On Food Network Special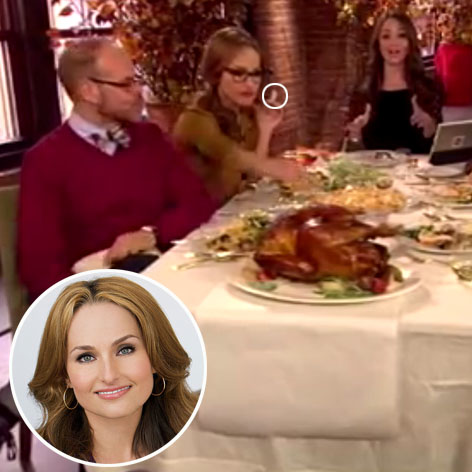 Giada De Laurentiis had a Julia Child moment Saturday during the Food Network's annual Thanksgiving Live special.
Appearing along with Alton Brown, Bobby Flay and Ina Garten, De Laurentiis managed to badly cut her finger when her knife slipped while she was slicing a turkey roll she'd just made.
"She seemed to go pale and got very quiet putting pressure on it and whispering to Ina that it was bad," an eyewitness tells RadarOnline.com exclusively. "She looked like she was about to faint."
Article continues below advertisement
The show broke for commercial and when it returned, Brown announced De Laurentiis had left the set to get medical attention.
The episode brought back memories of one of Saturday Night Live's most iconic sketches featuring Dan Aykroyd as the legendary Julia Child who once cut her hand and bled while taping an episode of her classic cooking show, The French Chef.
The Hottest Stars From Reality TV
But the show must go on, and De Laurentiis came back about 15 minutes later with her finger bandaged.