Exclusive
Deion Sanders Cites Ex-Wife's 'Evil Motive' Over Child Abuse Tweets—Demands $1 Million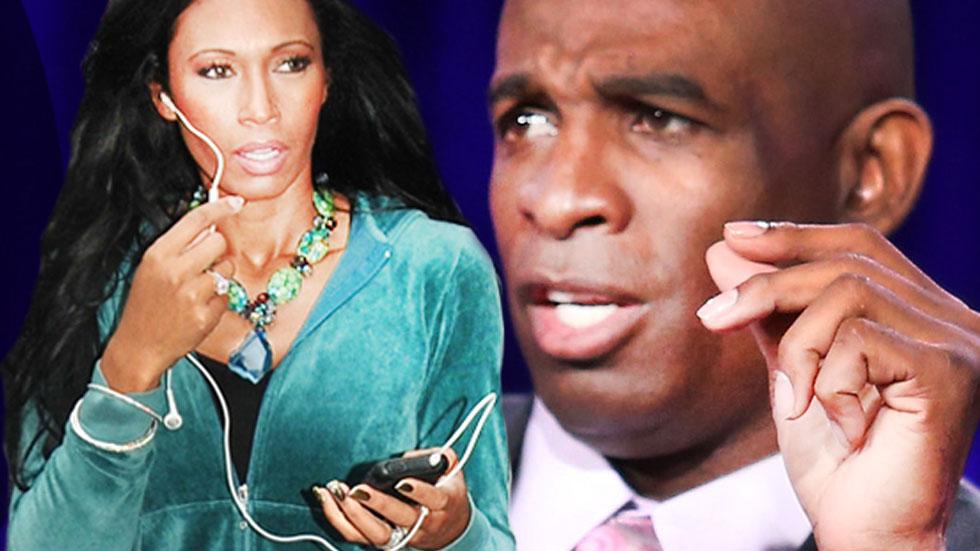 NFL Hall of Famer Deion "Prime Time" Sanders has stopped his ex-wife from accusing him of child abuse on Twitter and Facebook — for now.
A temporary court order has silenced Pilar Sanders after she posted audio of his daughter saying her father "kicked" and "choked" one of his sons.
Pilar, 47, has "ill will, spite, evil motive and a purpose to cause substantial injury or harm" to her former husband, a defamation complaint filed by his lawyer claims.
Article continues below advertisement
The Texas judge who imposed the temporary order could be made permanent after a hearing Tuesday, RadarOnline.com has learned.
Pilar has very vocal about her anger toward 47-year-old Deion ever since he won full custody of the children in a bitter court battle. In one Facebook rant she posted last month, Pilar wrote: "Ripped them from me, alienating them from me and Abusing them…Now It's My Divine Motherly Right to Keep Fighting until they are Safely with me, where they belong and have always been."
However, the football star's lawyer told Radar the audio Pilar broadcast is old and was already considered as part of the child custody trial.
Now Deion Sanders is demanding defamation damages up to $1 million from his ex-wife.
Neither Pilar nor her lawyer immediately responded to Radar's request for comment.
Deion's parenting skills to his 10-year-old daughter Shelomi and two sons Shilo, 14, and Shedeur, 12, are featured on the show Deion's Family Playbook on OWN TV.