Commanding Votes? Duck Dynasty Goes Political! Phil Robertson Stumps For Candidate With Sarah Palin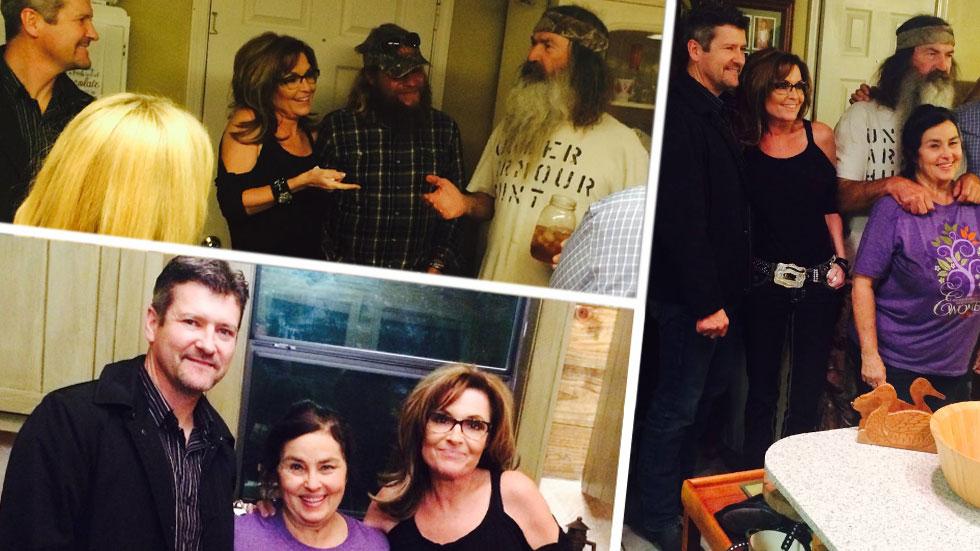 Article continues below advertisement
The former GOP VP candidate added a gushing caption, "Thanks to Phil and Miss Kay for the most scrumptious country cooking tonight in their home kitchen! So authentic and everything from scratch! I recognized lots of recipes from Miss Kay's cookbook: chicken and dumplings, fried cornbread, turnip greens, creamed corn, squash casserole... we are now happy, happy, happy, and stuffed! Great to share a meal with the Duck Commander crew. Now I'm stoked to try more of these great recipes from Miss Kay's Duck Commander Kitchen Cookbook when I get home. Thanks for the great visit, Louisiana!"
Palin, who dressed in a revealing cutout top and tight jeans for her Robertson family visit, was set to be in Louisiana all weekend to stump for Congressman Cassidy, the Republican candidate for U.S. Senate who is in a Dec. 6 runoff with Democratic incumbent Mary Landrieu.
Phil and Palin have more than conservative politics in common. Palin's daughter, Bristol, competed on Dancing with the Stars and Robertson's granddaughter Sadie is a competitor on the ABC reality show this season.
The Louisiana state Democratic party has struck back at Robertson's campaigning, saying in a statement, "Mr. Robertson is a colorful character, and he's entitled to shout his opinions from the rooftops. He is a reality TV star, after all. But this is a political rally, and Congressman Bill Cassidy should be ashamed to be providing Mr. Robertson with a stage and microphone to spread his political beliefs further than rooftop ranting would allow.