'Duck Dynasty' Dark Secrets! Jep Robertson's Wife Jessica Tells All About Partying During College And Bringing 'Baggage' To The Family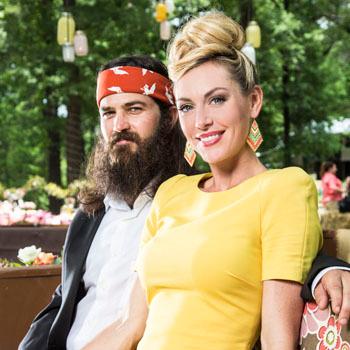 Duck Dynasty wife Jessica Robertson has revealed her shocking past in a new interview sure to surprise fans of the hit A&E reality show.
Christian family patriarch Phil Robertson recently got in plenty of hot water for his controversial homophobic comments, and now his son Jep Robertson's wife Jessica is confessing her own sins while promoting the Robertsons' new book, The Women of Duck Commander.
The book delves into the life lessons of all the family's women, and Jessica told FOX News, "I was going through quite a lot when I met Jep...Just kind of being in that college age and environment. Just doing things that you don't want to live the rest of your life doing. Partying or anything like that."
Article continues below advertisement
As Duck Dynasty viewers know, Jep had his own issues with drugs and alcohol and Jessica said she could relate: "We struggled with different things when we were young."
Jessica and Jep's relationship was a whirlwind. They met in March 2001, he baptized her in April, they started dating in June, got married in October, and found out she was pregnant in April 2002!
They now have four children.
"I of course fell in love with his family," she told FOX about the famous Robertson clan. "And they were so forgiving of anything I did in my past as a young girl."
While she promotes the latest family book, in which she doesn't get too specific about her struggles, Jessica said she and Jep may elaborate in a future memoir together.
"We're meeting next week to discuss where we want our book to go. Basically it will lay it all out," she promised