Exclusive
Not Today! One Direction 'Furious' At Matt Lauer's 'Unprofessionalism' Over Drug Question – Threaten Never To Go On 'Today' Again!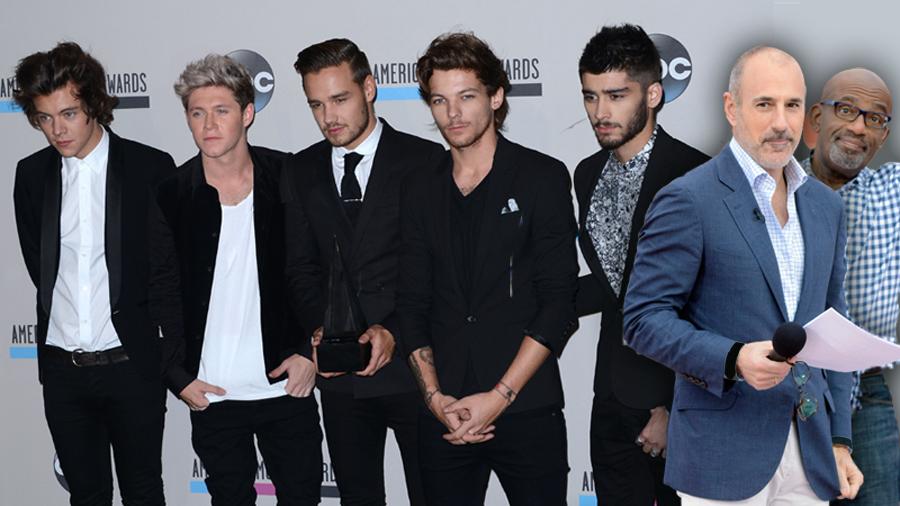 Don't mess with One Direction! Today show host Matt Lauer is under fire on Twitter after the controversial morning TV mainstay accused 1D's missing band member, Zayn Malik, of "substance abuse." And now, RadarOnline.com has learned, it's not just the band's fans who are upset — the guys themselves are livid!
On Monday morning, Lauer was interviewing the band, who were there to promote their new studio album Four. Noticeably absent from the five-member group, which also consists of Liam Payne, Harry Styles, Louis Tomlinson and Niall Horan, was 21-year-old Malik.
Article continues below advertisement
"Where is Zayn?" Lauer asked. Payne, 21, responded, "He's got a tummy bug so he's not very well at the moment so he couldn't make it over."
Lauer, 56, proceeded with a line of questioning that "shocked the boys," a well-connected band insider tells RadarOnline.com exclusively.
"There's obviously a lot of concern, a lot of fans have been tweeting overnight," Lauer said. "There's been a lot of action on social media about him. Is it something more serious than just a minor illness? There have been rumors of substance abuse. What's going on?"
Though the band handled themselves well in the moment, "They did not know that they were going to be put on the spot like that and had they have known, they would have never done Today'" the insider says. "It was incredibly unprofessional of Matt and management is furious! One Direction are threatening that they will never go on the Today show again!"
Following the incident, Malik expressed his disappointment over the incident to The Sun.
Article continues below advertisement
"I'm really angry and upset by what was said on the Today show," Malik said. "I was really ill at the weekend, that's why I couldn't fly to America. I was gutted to have to miss album release day, but I'm going to be back as soon as I can. As soon as I'm feeling better I'm going to join the guys and carry on with the promotion for the album."
Meanwhile, beyond the illness, "There is no concern whatsoever for Zayn," the well-connected 1D insider adds. "One Direction is handling this fame thing the best they know how. But there are no specific worries for anyone in particular. If any of the boys felt that one of them was getting out of hand, you'd better bet they would have an intervention,."
The source continued, "These guys are just kids, but they are all-around good guys.
Reps for the Today show and One Direction did not immediately respond to RadarOnline.com's request for comment.
Do you think that Matt Lauer was out of line? Let us know in the comments below.