'Today' Shocker: Matt Lauer's Wife Accuses Him Of 'Cruel & Inhumane' Treatment In Divorce Papers Kept Secret — Until Now!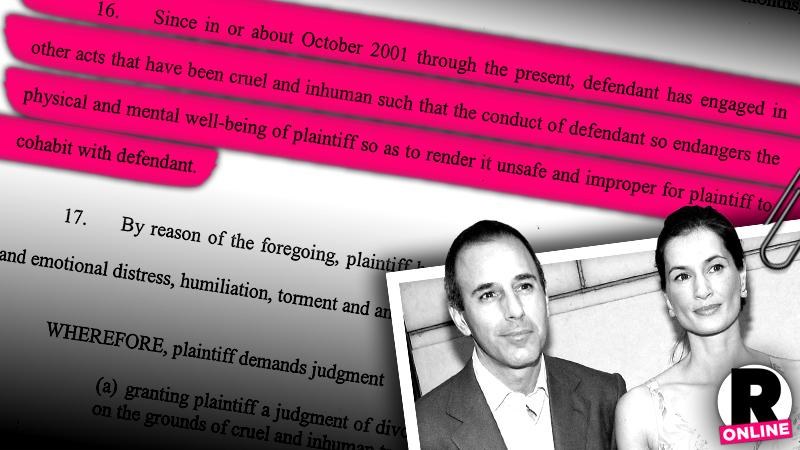 Matt Lauer's reputation suffered after Today co-host Ann Curry was cruelly sacked in 2012— but now the NBC journalist's fans will be astounded to learn about his own wife's shocking accusations against him. Annette Roque Lauer, 48, filed for divorce against her husband in September 2006 only to withdraw the lawsuit a month later, and now The National ENQUIRER can exclusively reveal the jaw-dropping court papers.
Article continues below advertisement
Annette claimed she suffered "cruel and inhumane" treatment by the 56-year-old news anchor, who also demonstrated "extreme anger and hostility" toward her, according to the documents.
"The conduct of defendant (Matt) so endangers the physical and mental well-being of plaintiff (Annette) so as to render it unsafe and improper for plaintiff to cohabit with defendant," Annette's high-powered NYC attorney Nancy Chemtob argued.
Former model Annette, who wed Matt in 1998, also claimed her husband regularly blew off his family, which also included children Jack and Romy, then 5 and 2. (Annette gave birth to Thijs two months after filing divorce papers.)
"Defendant has continuously and repeatedly given higher priority to ... personal interests than to his family obligations to plaintiff, causing plaintiff to feel abandoned, isolated and alone in raising the parties' children," the court documents continued.
Article continues below advertisement
Despite his alleged absence from the family home, Annette's attorney also claimed the star was "extremely controlling" of his terrified wife.
He refused "to allow plaintiff to make even the smallest decisions without his approval, including, but not limited to, decisions regarding finances, travel plans, decorating the parties' homes and domestic help issues," the documents claimed.
Though it seems puzzling, Annette took Matt back soon just a month after filing papers. The couple celebrated 16 years of marriage on October 3.
A source close to Lauer, 56, told Radar, "Matt and Annette just happily celebrated their 16-year wedding anniversary over dinner with their three children."
The insider added, "These divorce papers were filed more than eight years ago and revoked three weeks later. In New York at that time, irreconcilable differences could not be considered grounds for divorce. A spouse had to prove cruel and in-humane or unsafe treatment, which meant that lawyers had to establish grounds."
For more of Annette's accusations, pick up the latest issue of The National ENQUIRER.