Party Foul! 'Hungover' One Direction Star Zayn Malik Forgets His Words On-Stage, After All Night Party With Rihanna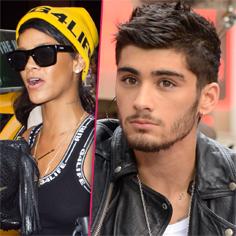 One Direction star Zayn Malik is engaged, but that doesn't mean he's settling down. Just three days after walking the red carpet with his fiancee, Perrie Edwards of girl group Little Mix, at the London premiere of One Direction: This Is Us, Zayn appeared "hungover" for the band's big performance on the TODAY show this morning, forgot the words to his solo, and proceeded to cancel all of his interviews for the rest of the day after partying all night with Rihanna.
Article continues below advertisement
The night before the boys' big concert, as fans camped out in the streets, Zayn attended a pre-VMA party at NYC's Stage 48 with Rihanna, and other hip hop stars, a source tells RadarOnline.com exclusively. After heading out to the party shortly before midnight, Zayn stayed at the bash for several hours, and was not spotted returning to his hotel before the Today show wakeup call around 4:30 am, says the source.
Once at the show, Zayn appeared and acted slightly under the weather. Opening the boys' hit song Kiss You with his solo, Zayn forgot the words, singing Baby Be Mine Tonight twice instead of Baby I'll Take You There. The first time, band mate Louis Tomlinson stood in the background, laughing in disbelief, and confronted him minutes later. But Zayn repeated the error again later in the song, and it was especially noticeable when he did so just before bandmate Niall Horan sang Baby Be Mine Tonight as a refrain, as he was indeed supposed to do.
Article continues below advertisement
And though Zayn soldiered through the rest of his appearance on the show, apparently some R&R was in order after his exertions. Though he was due to call in to the Morgan and Maddy Show on Radio Disney at 10 am, at 10:26 am the show announced he'd instead called in sick.
"Bad news guys," they tweeted. "@zaynmalik had to cancel all of his interviews for today. He's not feeling well. Hopefully he feels better soon."
Fans cried party foul on twitter, however, accusing him of being hung over, not sick:
The boy band has certainly developed a taste for the night life in recent months, as RadarOnline.com has reported, even though they are all under age, except for 21-year-old Louis.
Watch Zayn's 'hungover' performance here:
youtube=https://www.youtube.com/watch?v=sK8SVMGPo1g&w=420&h=315
And watch well-rested Zayn perform it correctly back in November:
youtube=https://www.youtube.com/watch?v=lN33hCEDVQc&w=560&h=315