Hung Over Harry? Styles Sick On-Stage After Late-Night Party with One Direction Bandmates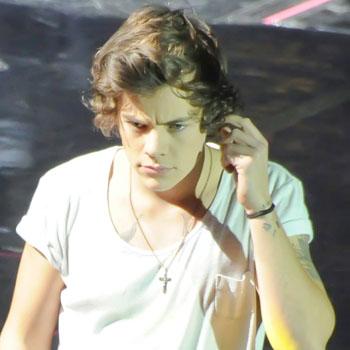 Justin Bieber isn't the only teen idol with a taste for partying. Harry Styles has been spotted partying it up at bars across the U.S. and Canada in recent weeks and it could be taking a toll: During a One Direction concert on Monday night, Harry rushed off-stage and missed an entire song, apparently ill, after a night of partying.
Harry has never been shy about enjoying the occasional night out at the pub, especially in England, where the 19-year-old is of legal drinking age. In April, he reportedly got so drunk at Newcastle nightclub Perdu, he had to be carried out. (His reps later denied he was carried.)
Article continues below advertisement
And he's taken advantage of the American bar scene as well. On June 30, he was spotted partying with friends at the notorious Coyote Ugly Saloon in NYC.
On July 7, Harry and the band rented out a bowling alley near Pittsburgh, PA, for Ashton Irwin, a member of their opening act, 5 Seconds of Summer. Staying close to midnight, the boys had such a good time that Harry's 1D bandmate Liam Payne tweeted the next morning, "My head hurts...Can't even begin to remember who won bowling..."
At the concert the next night, Harry appeared worse for the wear, and fans noticed, especially when he ran offstage after grabbing his stomach at the end of Teenage Dirtbag.
As the rest of his bandmates continued on with Rock Me, covering his solo, Harry hunched backstage throwing up, according to eyewitnesses on Youtube.
"I was there!" user amadak822 posted. "He got dehydrated and overheated and ended up throwing up backstage. :( He missed Rock Me but came back right after and said, 'Sorry bout that!'"
Article continues below advertisement
One Direction fan account @1DMofosUpdates tweeted that their concert going sources believed "Harry threw up bc he was hungover from last night! The boys were joking and didn't really care when he left soo"
Apparently, Harry was hydrated enough by the next night to party it up once more in Toronto. He and the rest of his bandmates threw a birthday bash for drummer Josh Devine at Soho House Toronto that went on well past midnight.
But don't expect Harry to stop his nights out any time soon, even though One Direction's team has plans to capitalize on Justin Bieber's partying by being a more "wholesome" alternative.
"When you're playing a part, eventually it goes wrong," Harry told Glamour magazine in their current issue. "Eventually someone's going to see that that's not who you are. So it's best to be yourself from the get-go."
Watch the videos of Harry getting sick on stage:
youtube=https://www.youtube.com/watch?v=k1Ou-F6O82I&w=560&h=315
youtube=https://www.youtube.com/watch?v=RjqgamiWhrg&w=560&h=315
Do you think he was hung over or simply overheated? Let us know in the comments!