NASCAR Star Kurt Busch Allegedly Smashed Ex-Girlfriend's Head Against Wall After Bad Race, Threatened To Kill Himself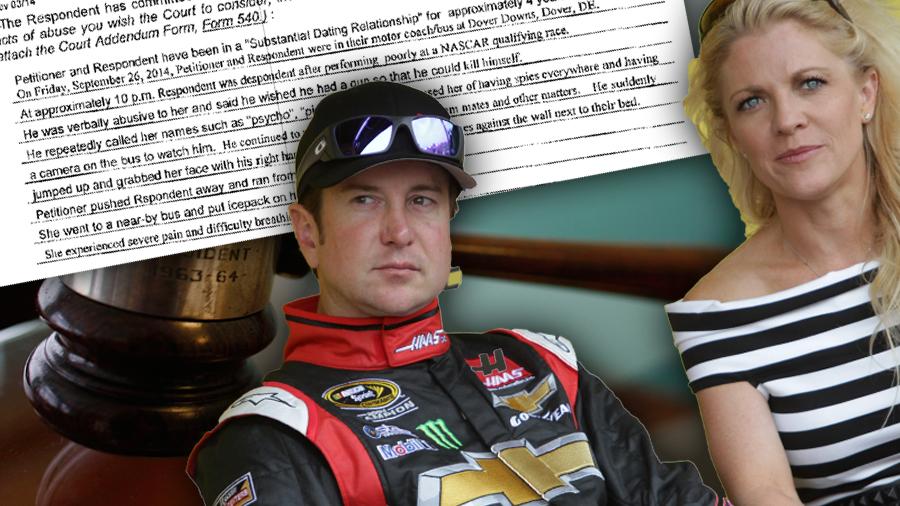 NASCAR's Kurt Busch became so upset after a poor performance on a racetrack that he talked about killing himself before smashing his ex-girlfriend's head against a wall, court documents obtained by RadarOnline.com reveal.
Patricia Driscoll described the alleged incident in her request for a protection order from Busch, 34, which was filed last week.
Driscoll alleges the attack happened in Busch's motor coach bus when the driver was "despondent after performing poorly at a NASCAR qualifying race" at Dover Downs racetrack in Dover, Delaware on September 26.
Article continues below advertisement
"He was verbally abusive to her and said he wished he had a gun so that he could kill himself," the court filing says. "He repeatedly called her names such as 'psycho', 'piece of s—t'. He accused her of having spies everywhere and having camera on the bus to watch him. He continued to rant at petitioner about his team mates and other matters."
Busch then allegedly became violent inside his bus. "He jumped up and grabbed her face with his right hand and smashed her head three times against the wall next to their bed," the petition says. Driscoll says she pushed Busch away and ran out of the bedroom and into another bus where she put an icepack on her head and neck.
The attacked left her with "severe pain and difficulty breathing as well as bruising on her neck," the filing says.
Driscoll asked a Delaware court to order Busch, who lives in Moorhead, North Carolina, to undergo a psychiatric evaluation.
Busch's lawyer told USA Today that the accusations were lies made up by Driscoll.
The poor showing at the Dover race eliminated Busch from NASCAR's top championship chase.