Exclusive
'He Needs To Get Help!' Kourtney Kardashian Still 'Holding Onto Hopes' Scott Disick Will Quit Drinking As Wild Partying Continues In Vegas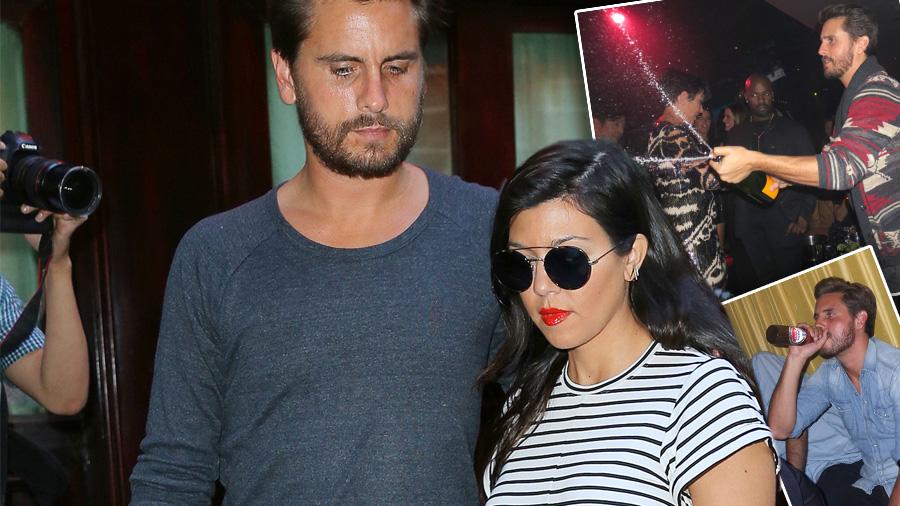 Kourtney Kardashian is set to deliver her third child with Scott Disick "any day now," but a source close to the family tells RadarOnline.com exclusively that the arrival of her next child is not the only pressure weighing on her mind. According to the insider, Kardashian remains concerned about her baby daddy Disick's drinking habits, and desperate to get him to stop — for good.
As RadarOnline.com reported, Disick was hospitalized with alcohol poisoning in July — an incident that is currently playing out onscreen on Kourtney & Khloe Take The Hamptons. But according to the insider, his struggles with alcohol are all too real.
Article continues below advertisement
"Unfortunately this is not just a story line for the show – it is something she has been dealing with for years," the source says."Kourtney has given him so many chances."
Indeed, Kardashian threw Disick out of their Hamptons home this summer over concerns about his partying. The oldest of the Kardashian sisters told Disick that "it's time to grow up" and she told her sister, Khloe Kardashian, that she would leave him if he didn't clean up his act.
Disick subsequently put the plug in the jug for a few weeks, and the couple seemed on solid ground.
"He was doing so good for a few months that she let up on him," the source explains.
But then, he was just photographed downing drinks and spraying the crowd with champagne at Kris Jenner's 59th Birthday in Las Vegas on Nov. 7, raising concerns that he hadn't changed at all.
"Scott says he will stop and Kourtney always gives him the benefit of the doubt," the source says. "But he is still in denial that the problem is as severe as it is. Now she is about to give birth and has been holding onto hopes that he is going to stop drinking for good."
Article continues below advertisement
"Everyone who knows Kourtney has told her the same thing over and over," the source tells RadarOnline.com. "That he needs to get help."
Kardashian, 35, and Disick already have two children together – Mason, 4, and Penelope, 2.
Do you think that Kourtney Kardashian should force Scott Disick to get help? Let us know in the comments.