Ebony Editor Slams 'Trash Bag' Khloe K For KKK Joke: 'Show A Modicum Of Respect'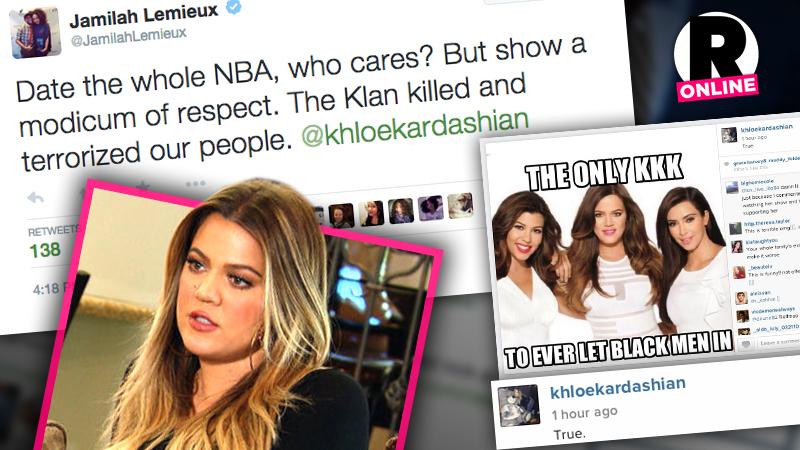 Khloe Kardashian has stuck her Louboutin in her mouth again. After the famously quick-witted Kardashian sister posted a joke about the KKK on her Instagram Tuesday night, critics were swift to slam the seemingly tasteless move, with one editor even calling her a "trash bag!"
Kardashian kicked off the furor when she posted a pic of herself with sisters Kim and Kourtney that read, "The only KKK to let black men in," and captioned it "True."
Article continues below advertisement
"Wow Khloe Kardashian, you are a trash bag," Ebony Senior Digital Editor Jamilah Lemieux tweeted in response. "…I checked her IG, hoping it was a hoax."
"Now just waiting for the 'I got hacked' tweets to start!" Lemieux wrote.
"Date the whole NBA, who cares?" she continued. "But show a modicum of respect. The Klan killed and terrorized our people. Ironically she was Black girls' fave one of the group because she's witty and a size 8. Ugh. Black men the only ones defending her. …"
Other twitter users chimed in, "IDK maybe it's just me, but if I were attracted to and slept with and married black men, I might not make KKK jokes, just a thought."
User @DerrickClifton wrote, "If you're a white woman (ahem Khloe) who's dated or married a black man, one would assume you'd get why a KKK joke isn't even remotely funny."
"Khloe Kardashian disgusts me," @xodanix chimed in.
Her sister Kourtney's baby daddy Scott Disick posted the same pic on his Instagram as well.
Do you think she crossed the line? Let us know in the comments!