Hank Baskett Reveals Deep 'Depression' In Disturbing Interview After Transsexual Scandal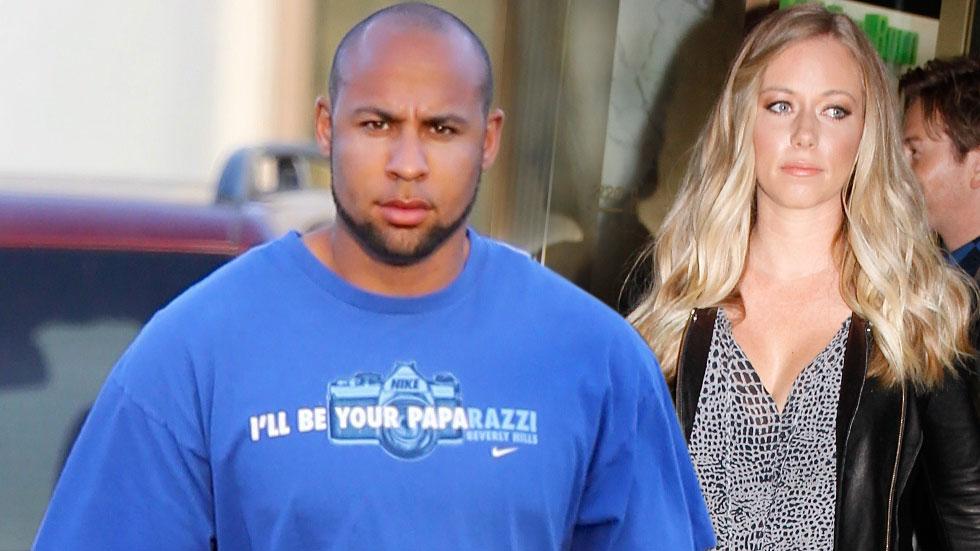 As Kendra Wilkinson and Hank Baskett rebuild their marriage in the wake of his affair with a transsexual model while she was pregnant, Hank said severe depression about the end of his NFL career led to the string of mishaps that nearly ended his marriage — and potentially, his life.
Hank said that his 2011 release from the Minnesota Vikings, and inability to catch on elsewhere, caused his self-esteem to plummet, as he said he "completely lost his identity" and "felt like a failure" trying to move onto the next phase of his life.
Article continues below advertisement
"For 20 years, my life was, 'Catch the football! Catch the football!'" the former Philadelphia Eagle told US Weekly, adding that once his career concluded, he "started holding everything in because he felt like no one could understand."
Watch the video on RadarOnline.com
youtube=https://www.youtube.com/watch?v=K4qK3kZPqkA&w=420&h=315
Hank said that in the course of picking up the pieces, he went "through a serious struggle with depression, and during that time … lost the ability to open up to his best friend, Kendra."
As the scandal involving his April tryst with transsexual model Ava Sabrina London went public, Hank said his depression intensified, so much to the point that he "hit bottom" worrying that his greatest fear — losing his family — was about to occur. The depression was so overwhelming, Hank said he couldn't even properly explain his actions to his wife, fearing it would make things worse.
"I had trouble thinking of the right thing to say the right way, especially in a situation like this, where it's your word against someone else's," Baskett said. "One wrong word and I could lose everything."
Article continues below advertisement
With his career in the rearview mirror, and his marriage approaching the brink of disaster, Hank admitted wrestling with "an extremely tough feeling" over whether he wanted to continue living.
Asked if he ever contemplated suicide, the former NFL wide receiver admitted "there was a point where I felt that I couldn't defend myself and there was no way for me to make it through this… but I realize there's no way I could ever check out on my kids and my wife.
"I'm not a quitter."
Thankfully, the father-of-two was able to clear his head, and make up with his wife, who told the publication she was a button push away from calling a divorce lawyer, until her best friend Jessica Hall talked her out of it.
"If it weren't for Jessica," the Playboy Playmate said, "I would be divorced right now."
The embattled couple said they got back on the same page with an emotional heart-to-heart discussion. After that chat, Kendra said she knew "the truth" of the matter, and came to the conclusion that Hank was "worth forgiving and fighting for.
Article continues below advertisement
"All I can say is I believe Hank … he was in the wrong place at the wrong time and unfortunate things took place — he's very gullible and naive."
Moving forward, Hank said their "relationship is still day-to-day," and he's "still working on regaining Kendra's trust" — a mission that includes letting her have access to his phone. (Likely the same one on which Hank chatted with London in RadarOnline.com's exclusive audio.)
"Since day one, I've been comfortable with Kendra looking through my phone," he said. "I always want her to know I have nothing to hide."
While admitting she still has "major trust issues" in her marriage, the Girls Next Door star seems satisfied with their current reality, saying that "today, everything is great" as they've worked on the marriage both in therapy, as well as on WEtv's Marriage Boot Camp.
"We're happy today and that's the only way we can live," she said. "I want to be happy in the moment."
Kendra on Top's season finale airs on WEtv Friday at 9/8c.