'19 Kids' Star Josh Duggar Leads Anti-Gay Marriage Rally In Arkansas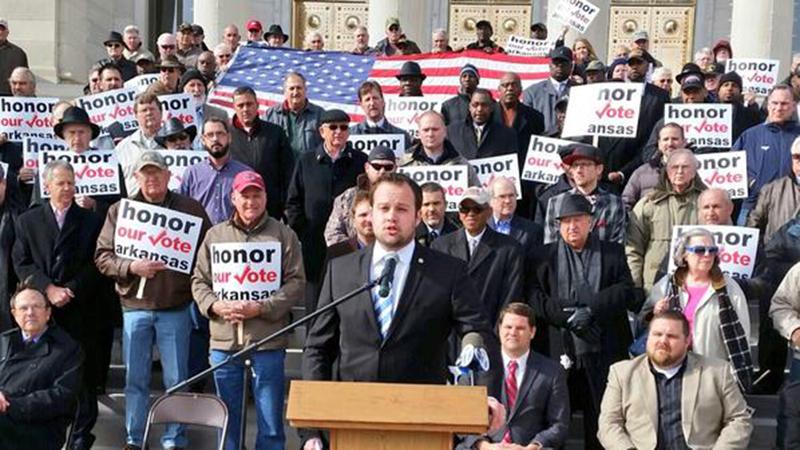 Josh Duggar proudly led a gay marriage opposition rally in Arkansas this week despite an online petition urging TLC to cancel 19 Kids & Counting due to the Duggar family's LGBT stance.
"It was my honor to join the "Honor Our Vote" rally on the Arkansas Capitol steps today," the oldest Duggar child tweeted Wednesday with a pic of himself speaking at the event on behalf of the Family Research Council Action, which he is the executive director of.
Article continues below advertisement
"Arkansans should not face the threat of fines or being sued for living out the deeply-held convictions of their faith. We have the First Amendment in this nation, and we have the right to live out our faith. The rally will send a strong reminder to Arkansas Supreme Court Justices that an overwhelming majority of voters, 75 percent, voted to preserve marriage as the union of a man and a woman," Duggar said in a press release before the rally.
MORE ON:
19 Kids and Counting
Earlier this month the ultra-conservative Duggar family, led by Jim Bob and Michelle, was criticized for allegedly banning gay posters and deleting same-sex kiss photos from their official Facebook page.
Since then, thousands have signed an online petition to get their show, 19 Kids & Counting, taken off the air. TLC has declined to comment on the future of its hit series, which is currently airing its ninth season on the network.