'My Version Of The Kim K.': Busty Jennifer Aniston Emerges In Red Sweater For 'Ellen' Appearance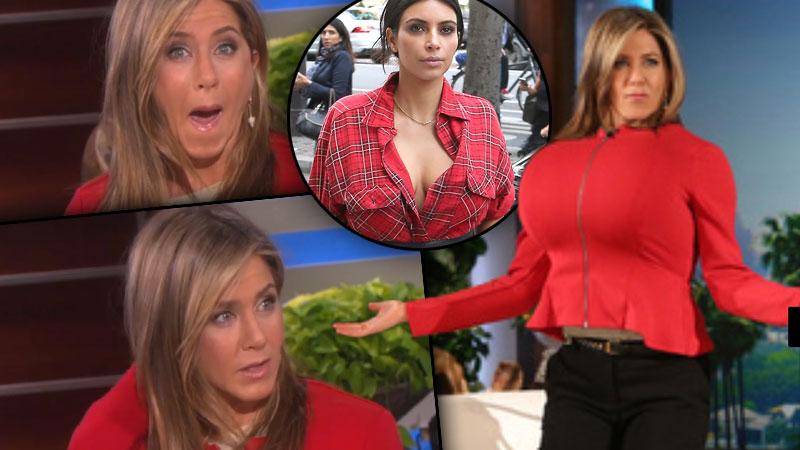 Jennifer Aniston measures up to Kim Kardashian — with an inflatable bra, that is.
The 45-year-old parodies the reality TV superstar in her slated appearance with Ellen DeGeneres Tuesday, where she said that the cartoonish bust, as result of the novelty brassiere, was her "version of the Kim K."
"Something's changed about you," DeGeneres wisecracked.
In the interview, DeGeneres grilled the A-list beauty about her engagement to Justin Theroux, and the ongoing uncertainty revolving around their wedding date -- one that all of Hollywood is looking forward to.
Article continues below advertisement
"I am your friend and I know a lot about you, but if I weren't your friend, I have to discuss the crazy constant rumors of the wedding," DeGeneres told Aniston. "I know that I'll know when the wedding is, but sometimes, because it is so secretive, when we're invited, we're like 'I'm not in town ... but should we be in town?'"
The Friends star laughed, saying how her celeb pals Sacha Baron Cohen and Isla Fisher have taken similar precautions to a whole new level, always wearing formal wedding clothes during their get-togethers.
The couple, Aniston said, "showed up for four little gatherings, about a year ago, in beautiful wedding wear.
"Even for the 4th July last year, Sacha was in a powder blue suit, and Isla was in a little cute dress and we were like, 'Guys, it's 4th July, we were in cut offs, eating hot dogs. We will actually let you know!'"
Aniston appeared to promote Horrible Bosses 2, which hits theaters Wednesday.