Jada Pinkett Smith Leaks Naked Pic, Says Will Took It In Her Sleep – Inside His 'Sexy Secret'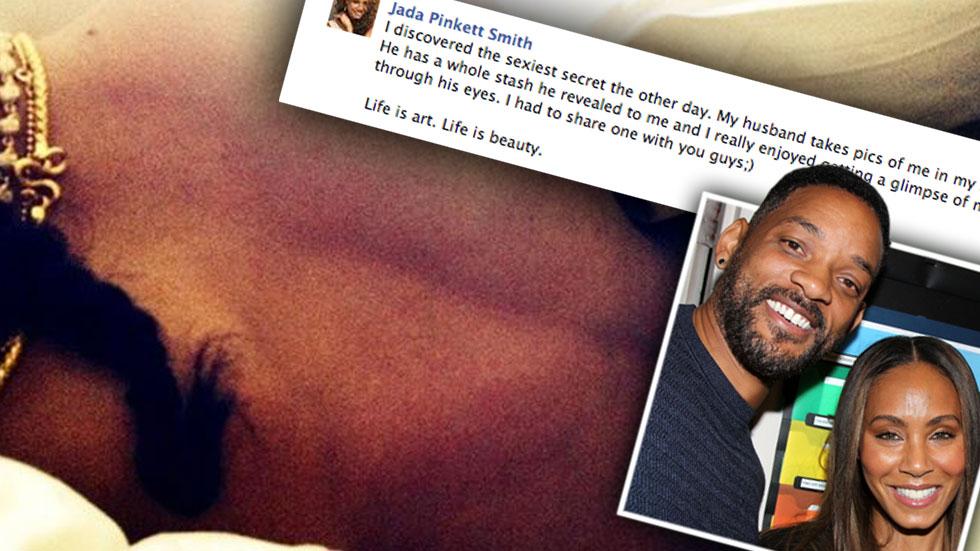 What happens in the bedroom stays in the bedroom?
Not for Jada Pinkett Smith, apparently! The Gotham actress posted a sexy selfie to her Facebook account – only she claims she didn't take it! The photo shows the star's naked backside, allegedly taken by her husband, Will Smith.
Jada captioned the artsy photo with a comment about her husband's "sexy secret" and how she enjoys "getting a glimpse" of herself through the "Fresh Prince's" eyes.
Article continues below advertisement
If Will is really taking secret snaps of his wife while she sleeps naked, then this is probably one of the more PG-13-rated pictures he has taken. But this isn't the first scandalous picture of someone in the Smith family that has surfaced.
As RadarOnline.com previously reported, Will and Jada's 13-year-old daughter, Willow, found herself caught in a photo scandal after a racy picture of her in bed with a much older man hit the Internet. It sparked so much concern that Child Protective Services subjected her A-list parents to an investigation.
Jada blasted the public back then, saying, "You guys are projecting your trash onto it, and you're acting like covert pedophiles, and that's not cool."
Do you think Will Smith took this picture of his wife? Sound off in the comments below!