Exclusive
'Not Acceptable!' Jada Pinkett Smith's Stuntwoman Slams 'Gotham' For Blackface Controversy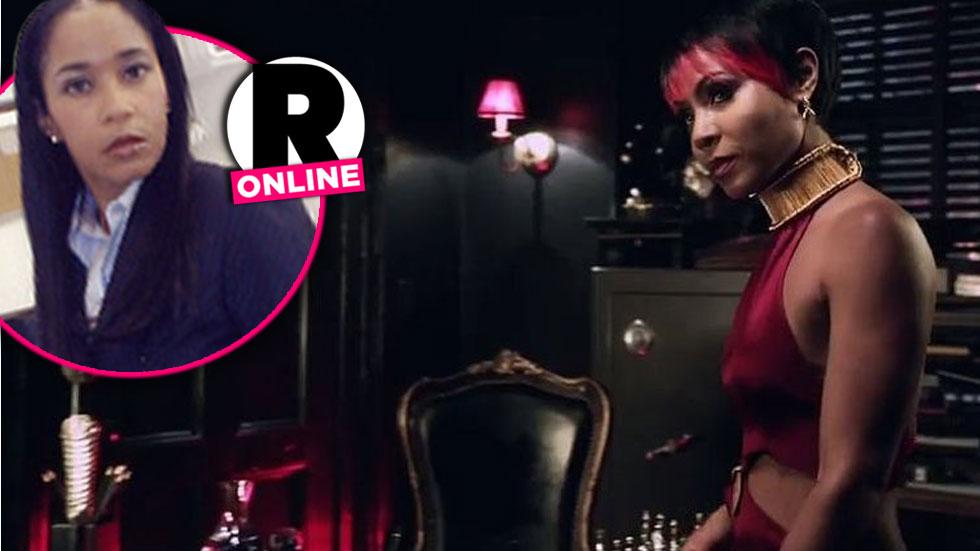 Eagerly anticipated FOX TV show Gotham debuted to strong ratings and critical acclaim earlier this fall. But now, RadarOnline.com has learned, the primetime drama is coming under heavy criticism — and even accusations of racism — after a white actress' face was reportedly painted black so she could double for an African-American actress. On the heels of the scandal, Jada Pinkett Smith's stuntwoman is speaking out exclusively to RadarOnline.com about the sticky situation — and why she says it still has not been resolved.
Article continues below advertisement
Earlier this month, Deadline published an explosive article slamming the show for the cover-up, and the WB later apologized. "A mistake was made this week in casting a stunt woman for a guest star in a particular scene on the show," the studio said in a statement. "The situation has been rectified, and we regret the error."
Kelsee Devoreaux, longtime stuntwoman for Pinkett Smith, who plays the character Fish Mooney on Gotham, says the scandal was even more unnerving because she had been explicitly told there was no stunt work for Smith's character.
RadarOnline.com has learned that Devoreaux contacted the show's stunt coordinator in March offering her services, and was told Smith's character did not need any stunt doubles. According to Devoreaux's IMDB page, she stood in for the star in Hawthorne, Terminator Salvation, Lincoln Heights, The Haunted Mansion, The Matrix Reloaded, and more, before being snubbed by the show.
"This did happen and it will not and should not ever be tolerated, especially in today's age. This is 2014 and it is not acceptable," she says.
Article continues below advertisement
What's more, she claims, "Jada definitely knows about this," although it is not certain that it was Pinkett Smith's stunt person that was painted black by the stunt-coordinator for the show.
When RadarOnline.com contacted SAG about the incident, they claim that "the circumstance has been resolved."
However, Devoreax claims otherwise.
"This situation has not been resolved," she tells RadarOnline.com, adding, "The stunt-coordinator who may have been responsible for this is still working on the show!"
"If being resolved means the person responsible for this has not been fired, than nothing has been resolved," she continues.
Deveroux also claims to know the stunt double whose face was painted black by Gotham's stunt coordinator.
"She was so freaked out and uncomfortable by this situation, that she contacted SAG immediately," Deveroux says.
Following the incident a spokesperson for the union also told Deadline, "Thus far, no one working on this production has brought this to our attention so we have no comment on this specific allegation."
Article continues below advertisement
A SAG rep insisted to RadarOnline.com, "With respect to this issue in general, the relevant SAG-AFTRA contract is clear: the practice known as "painting down" is presumptively improper. It further states that when the stunt performer doubles for a role which is identifiable as Black/African American and the race of the double is also identifiable, stunt coordinators shall endeavor to cast qualified persons of the same sex and/or race involved. In other words: the practice of "painting down" is unacceptable anywhere and particularly so in a production center like New York City with so many qualified stuntwomen of color trained for this type of work."
Indeed, Devoreaux says she explicitly contacted the show for that reason.
"There is simply no excuse when all casting directors and stunt coordinators need to do is reach out to the union so we can help them identify people who can compete for these opportunities," the SAG rep continued. "Each and every day we consult with industry professionals to ensure that they are able to access the pool of diverse talent around the country to meet their casting needs—from our own searchable database of union members to referrals to outside organizations to crafting an inclusive job notice to encourage appropriate candidates to apply.
Reps for Gotham did not return RadarOnline.com's request for comment.
UPDATE:
A rep for Pinkett Smith tells RadarOnline.com, "Jada has never had a stunt woman on Gotham. This is false and Jada is completely unaware of any of this ever happening."