Exclusive
Former 'DWTS' Contestant Tommy Chong Gets A Whole New High Promoting Pot Product! Did He Smoke On The Show?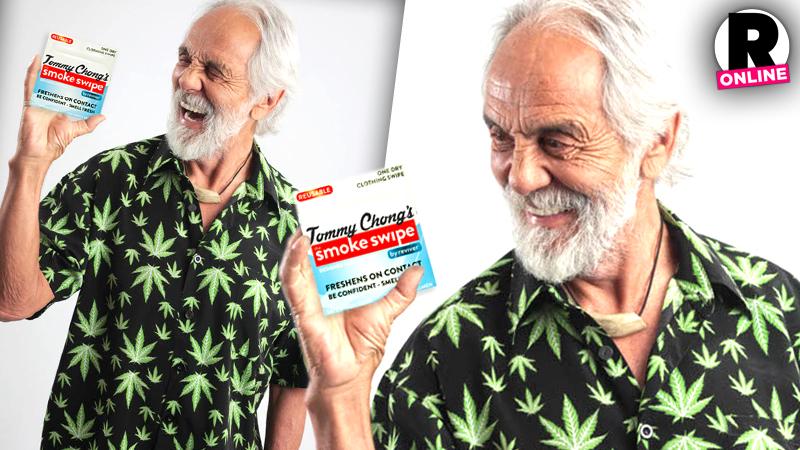 Tommy Chong didn't claim the trophy on Dancing with the Stars, but off the dance floor he's taking home the pipe and putting his name where his mouth is… literally. The weed-smoking comedy legend is on a whole new high by launching his own pot product, RadarOnline.com has learned exclusively.
Although the longtime medical marijuana proponent showed off sparkles and hot pink, he couldn't show his true green colors on the ABC show. But now that he's taken his final bow he wants to spread the love for his passion by putting his famous moniker on Tommy Chong's Smoke Swipe: a product designed to get rid of the pesky smell of cannabis and tobacco odor on clothing.
Article continues below advertisement
Chong says it would have come in handy prior to showing off his moves on live TV.
"If I would have had a Tommy Chong's Smoke Swipe with me before the show, then I would have had a toke!" Chong joked.
The Cheech & Chong star points to the increasing legalization of marijuana for medical purposes across the country as a huge impetus for the new product.
"While our culture is rapidly accepting cannabis consumption as a way of life, it's fair to acknowledge that smelling like cannabis in many public settings may not be cool," admits Chong, who served a nine-month prison sentence in 2004 for shipping bongs to Pennsylvania.
"I could have used my Tommy Chong's Smoke Swipe 10 years ago to save me from a lot of headache," he joked. "Now, those who partake in it can keep it to themselves."
Chong teamed up with Reviver Clothing Swipes to keep puffing discreet, portable, reusable, and easy to use by placing a swipe on his fingers, rubbing the applicator across clothing to neutralize odors.
The 76-year-old Chong and DWTS partner Peta Murgatroyd said goodbye to the ballroom on Monday, but he already came out on top as the oldest contestant to reach the semifinals in 19 seasons and has plans to come back to share the weed wealth with 70-year-old judge Len Goodman, who praised the self-professed stoner for his final performance.
"I'd share the swipe with Len!" Chong confessed.
For more on Tommy Chong's Smoke Swipe, go to www.chongswipes.com.