Is Another Duggar On The Way? Anna Duggar Tells All About If She's Pregnant With 4th Child On '19 Kids And Counting'​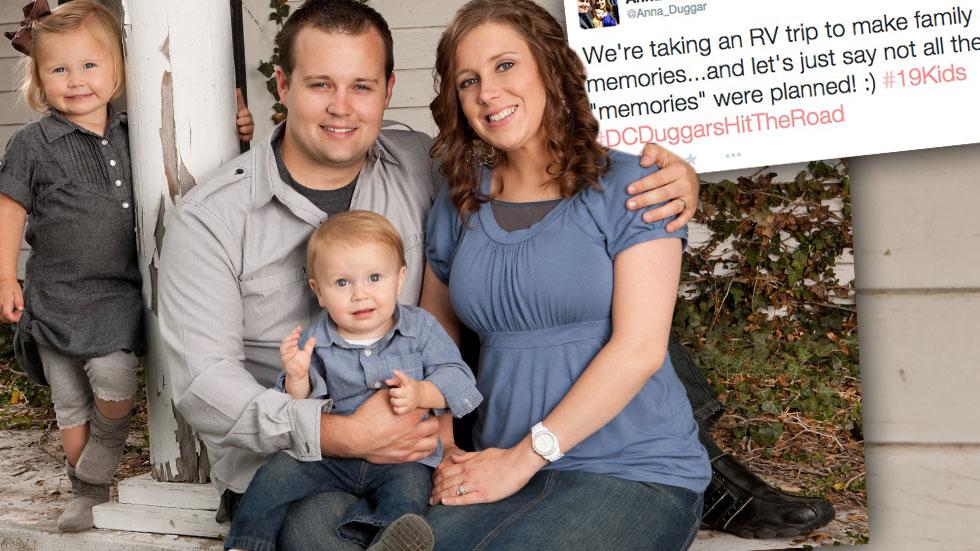 On Tuesday's 19 Kids & Counting, the speculation was whether Josh and Anna Duggar would announce they are expecting their fourth child, and the reality TV clan answered the question over the course of the show.
In it, the couple packed up their kids Mackynzie, Michael and Marcus into an RV for a ride from Washington D.C. to Chicago, headed to a family affair where the gender of Anna's sister Priscilla's unborn child would be revealed. For the party, the family predicted their cousin-to-be's gender by dressing in colors stating their guess: Anna and Mackynzie wore pink, while Josh and Michael wore blue.
Article continues below advertisement
Along the way, the fruitful clan took a few detours: among the stops, included Amish county, the Indianapolis State Fair, and a dairy farm, where they saw a cow deliver a calf inside a birthing center.
The birthing process sparked discussion between the two about having a fourth child, with Anna very enthusiastic about the idea, though Anna joked that watching the cow deliver made her think twice. After teasing a possible pregnancy, Anna made clear she's not pregnant (right now) though it seems inevitable the fruitful pair will have good news to announce in the near future.
"I definitely want to have more children but watching the momma cow in labor made me thankful that I wasn't pregnant yet," she said. "But then when you see the birth, the fresh new life, it's just like, 'Aww, that calf is so cute.'"
"But babies are even better, hint, hint!"
In the meantime, the Duggar clan will continue to grow, as newly-married Jill is expecting her first child, with husband Derick Dillard.