Chickadee: Mama June 'Didn't Believe' Mark McDaniel Molested Me, Told Me To 'Forget What He Did'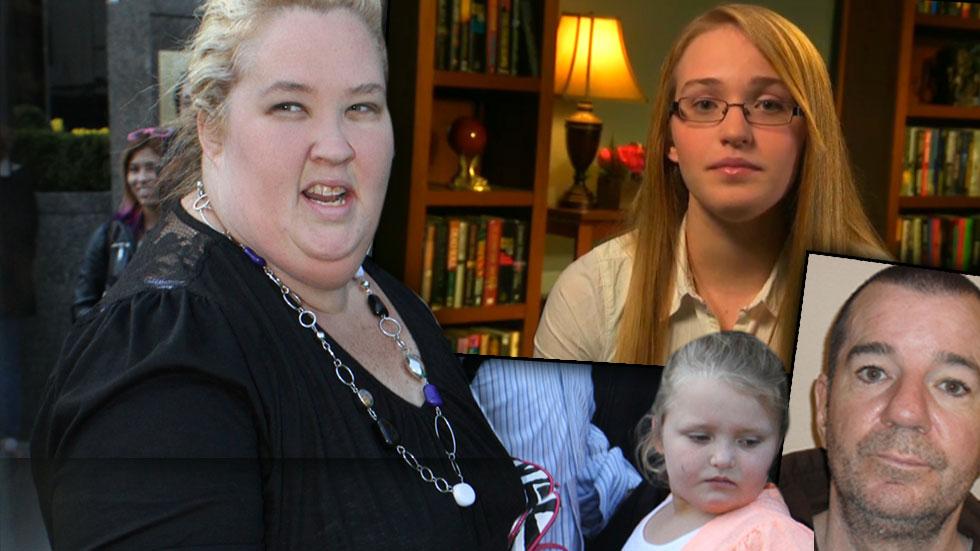 When 8-year-old Anna "Chickadee" Cardwell told "Mama June" Shannon she'd been molested by the man she was dating, Mama June didn't believe her.
This startling revelation came on Monday's edition of HLN's Dr. Drew On Call, where Chickadee, now 20, shared other horrific details of her mother's reaction to learning her then-boyfriend Mark McDaniel (in 2002) had sexually abused her own flesh and blood.
Chickadee said that when she informed Mama June about the abuse — tellingly, after she first told her third grade teacher — Mama June snapped at her for the problems she was causing with the brave admission.
Article continues below advertisement
"My mama didn't believe me for a while, and she's like, 'Why would you do that? Why would you do that to me? I can't believe you did that!'" Chickadee recalled. "And I was like, mama, HE did it, I can't take the past back — either you believe me, or you don't believe me, it doesn't matter to me.'"
Mama June tried to quell the traumatic incident by avoiding talking about it, making it an off-limits discussion, Chickadee said.
"After I told her this happened, she didn't believe me, and she was like, 'I'm done talking about this now, I'm done talking about this.'
"And eventually, she just said, 'Hey we need to put this behind us and forget what he did.'"
Twelve years after the fact, Chickadee said Mama June still has not apologized for any of her actions in the past, or for the recent allegations she reconnected with the convicted sex offender whose actions warped her childhood.
Article continues below advertisement
"She ain't apologized to me yet," Chickadee said, adding that she doesn't feel she "can get back on the same page" with her mother until that happens.
Watch the video on RadarOnline.com
"I'm hurt now, and I'm hurt that then mama didn't believe me … after it happened," she said.
Chickadee, who now lives in Alabama, has recently expressed concern regarding McDaniel's continued presence around her family. She said she's still in regular contact with her mother, who continues to utter her oft-repeated statement that all will be well when her side of the story comes out.
"I'm waiting for her side of the story to come in," an unconvinced Chickadee said.
As RadarOnline.com previously reported, McDaniel's emergence caused TLC to abruptly cancel the family's hit series, Here Comes Honey Boo Boo, after four seasons.
Dr. Drew On Call airs Monday through Thursday on HLN at 9/8c.