Exclusive
Ho, Ho, No! Teresa & Joe Giudice Feuding Over Plans For Final Christmas Together — She Wants Couture, He Says Thrift Store!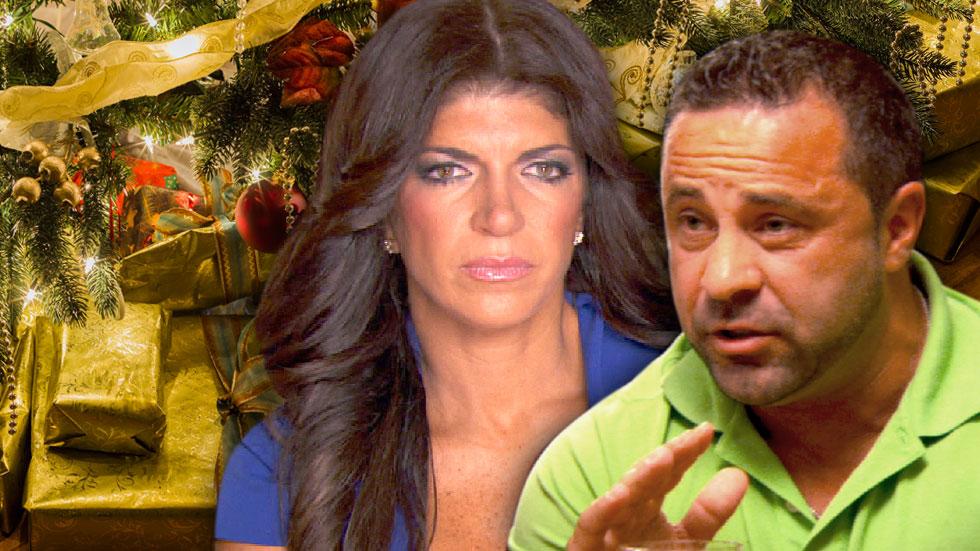 The Grinch has already stolen Christmas for Teresa Giudice! Even though this holiday season could be her last with her whole family together, RadarOnline.com has learned that the Real Housewives of New Jersey star has been fighting nonstop with her husband, Joe, about how to spend the season: Namely, he's trying to get her to understand that they can't afford their usual over-the-top gifts, since they're headed to prison for fraud!
Article continues below advertisement
In the past, Teresa and Joe had spared no expense for their four daughters, Gia, 13, Gabriella, 9, Milania, 8, and Audriana 5.
This year, Teresa "had hoped to give the girls an over-the-top Christmas because she is going to be reporting to prison on January 5," an insider told Radar. "Typically, Teresa would spend up to $10,000 on gifts for just the girls. From designer handbags, jewelry, one of a kind dolls, there isn't anything that the girls asked for and didn't get."
"Audriana has been asking for a miniature Barbie Jeep, and a pony," the source revealed. "Joe has said absolutely no to both, which is making Teresa furious. But they can barely afford to put gas in their own cars!"
"Joe even suggested that the girls only get one present each, and told Teresa to go shop at the local Goodwill store," the source said. "Of course she balked at that!"
Meanwhile, only their oldest daughter, Gia, has been told her parents are going to prison.
Article continues below advertisement
"Teresa and Joe decided they were only going to tell Gia that they had both been sentenced to prison, because of her age and maturity," an insider previously told Radar. "Telling the other three girls would have just been too hard, because of their ages. They aren't quite old enough to understand all of it. They don't want to scare the girls."
Teresa will serve her 15-month sentence first, before Joe begins his 41-month stint, so that one parent will remain with their daughters at all times.
Before that, Joe wants the family to "have a small, intimate Christmas at their house," the source said. "For Joe, it's all about having the family together, and under one roof. This will likely be their last Christmas together as a family because Teresa will be filing for divorce as soon as she is finished with her prison sentence. And Joe is likely to be deported."