Exclusive
Decision Day! Teresa & Joe Giudice Shed Tears, Prepare For The Worst At Sentencing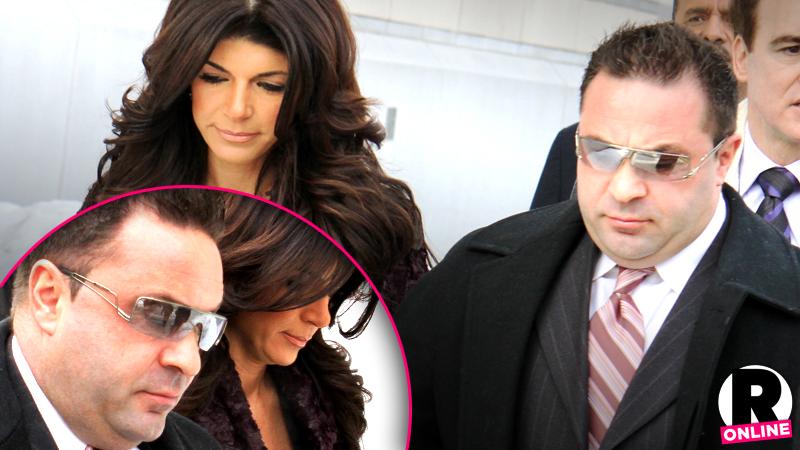 Today, Real Housewives of New Jersey stars Teresa and Joe Giudice will finally learn their fates, as a federal judge formally sentences the couple on bankruptcy fraud charges in Newark, New Jersey. As they face the possibility of prison time, only RadarOnline.com has the exclusive details of how the couple spent what could be their final hours of freedom for a while.
"Teresa tried to keep everything as normal as possible for the family leading up to the sentencing," an insider told RadarOnline.com. "She tried to not cry in front of her four daughters, but she couldn't help but shed a few tears. It's not lost on Teresa that Wednesday could have been her final day of freedom for a very long time. And Joe knows the judge is likely to throw the book at him, and sentence him to at least three years in prison, too."
Article continues below advertisement
"There are hopes that if both of them are sentenced to jail, Joe will be allowed to serve his term first, so she can take care of the four kids," the source revealed. "But in the worst-case scenario, that Teresa and Joe have to serve at the same time, her parents will become the temporary guardians of the girls."
As RadarOnline.com has reported, federal prosecutors are going to ask the judge to sentence the reality stars to maximum terms under their respective plea deals: 47 months for Joe, and 27 months for Teresa.
MORE ON:
Celebrity Justice
Though Teresa had previously hoped to lay the blame on Joe and take house arrest, the source said prosecutors "never believed that Teresa wasn't aware of the consequences of her actions."
One of the reasons prosecutors believe Teresa was involved in the ploy, the source said, was RadarOnline.com's exclusive report about her gifting her daughter, Gia, a prized diamond family heirloom ring.
The source said that prosecutors cited RadarOnline.com's story about the ring in court documents, alleging that Teresa didn't disclose it as a "valued asset."
"In the prosecutor's opinion, it just shows a disturbing pattern of behavior that Teresa isn't being honest," the source said.
During the sentencing proceedings on Thursday, Teresa and Joe will address the court.
Stay tuned to RadarOnline.com for the latest — live from the courthouse in New Jersey.