Exclusive
Lock 'Em Up! Prosecutors Ask Judge To Sentence Both Teresa & Joe Giudice To Prison Terms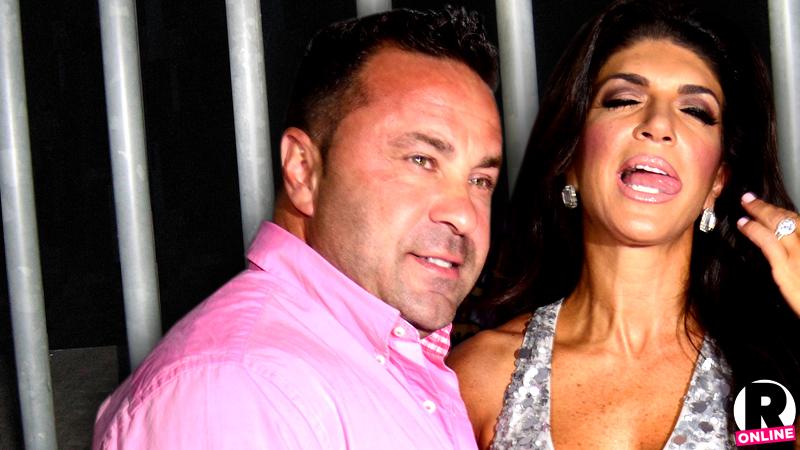 With just two days until Joe and Teresa Giudice's sentencing in their bankruptcy and fraud criminal case, RadarOnline.com has learned that the pair's prospects are not good. According to an insider, prosecutors are asking the judge to sentence the Real Housewives of New Jersey stars to prison, for maximum terms provided under the plea deal.
A source familiar with the situation told Radar, "The prosecutors are asking for prison time for Joe and Teresa. It's all outlined in their sentencing documents filed with the court. For Joe, prosecutors want him sentenced to 47 months in prison, and Teresa, 27 months. Joe has been resigned to the fact that he will most likely be going to prison, but no one was ready for the possibility of Teresa going also."
Article continues below advertisement
Though Teresa had previously hoped to lay the blame on Joe and take house arrest, the source said prosecutors "never believed that Teresa wasn't aware of the consequences of her actions."
"Naturally, Joe and Teresa are absolutely devastated and had hoped prosecutors would have agreed to probation, or even house arrest," the source said. "No one forced the Giudices to take the plea deal, and they accepted responsibility for their actions. Putting them behind bars doesn't do anything but hurt their four daughters."
One of the reasons prosecutors believe Teresa was involved in the ploy, the source said, was RadarOnline.com's exclusive report about her gifting her daughter, Gia, a prized diamond family heirloom ring.
The source said that prosecutors cited Radar's story about the diamond ring, alleging that Teresa didn't disclose it as a "valued asset. In the prosecutor's opinion, it just shows a disturbing pattern of behavior that Teresa isn't being honest," the source added.
Article continues below advertisement
It will ultimately be up to Federal District Judge Esther Salas to determine what the punishment will be for the pair.
Lawyers for Joe and Teresa plan to "ask for leniency from the judge, and hope to be given probation, and/or house arrest," the source explained.
During the sentencing proceedings on Thursday, Teresa and Joe will address the court. "They are both working on their statements, and the proper way to express their remorse over their actions," the source added.
According to the source, "Teresa and Joe are being punished because they are celebrities. If this was any other regular person, prison time wouldn't even be on the table. It's just shocking that the government is going after them so harshly."
Sentencing is scheduled for Thursday, October 2, in Newark, New Jersey.
Story developing.