Exclusive
No 'Blurred Lines' Here! Paula Patton Prepared To Go After Full Custody Of Son With Robin Thicke If Singer Doesn't Stop Boozing, Says Source – 'She's Over It!'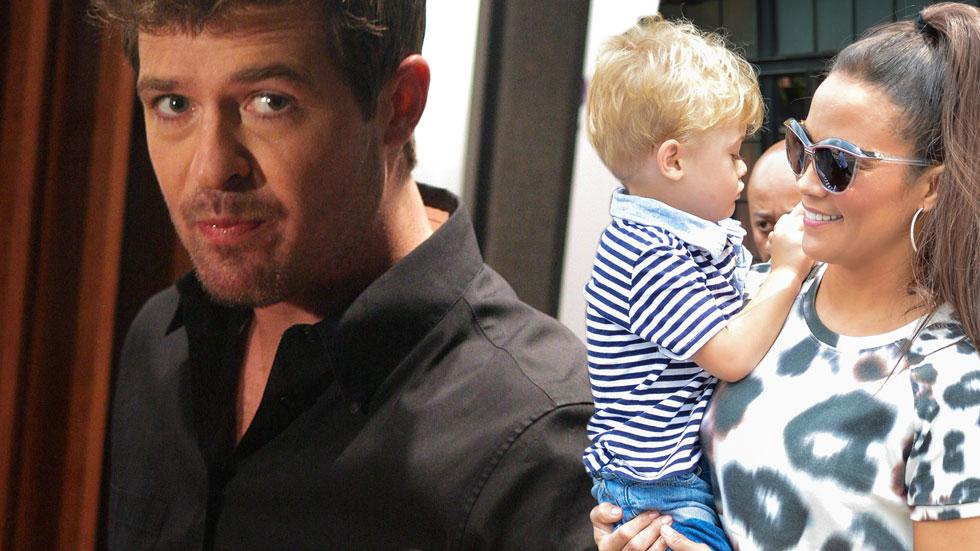 Paula Patton will go after full-custody of their son with Robin Thicke if the singer doesn't get his act together, fast! RadarOnline.com has learned that after the "Blured Lines" singer's recent drug and alcohol confessions, his estranged wife is considering asking a judge to restrict his time with their son Julian, 3.
"Paula will not allow Robin to be present in Julian's life if he is still drinking and using drugs," a source close to Patton tells RadarOnline.com exclusively. "He needs to stop altogether."
Article continues below advertisement
It is no secret that the "Blurred Lines" singer had been drinking heavily and taking drugs since Patton left him and in a recent deposition in Los Angeles Federal Court, Thicke admitted taking Norco and said that had a "drug and alcohol problem" for at least a year.
Although Thicke claims to have given up the drugs, he says that still continues to drink alcohol.
"The only way that Paula would go after full custody is if Robin does not get his s*** together," the source says.
Although Patton, 38, has not filed for divorce yet, Thicke has not been wearing his wedding ring, they have each bought new homes and, according to reports, are currently dividing up their assets. The insider says the filing could come any day now.
"She said she is over it and has moved on," the insider explains.
As RadarOnline.com previously reported, the last straw for the Baggage Claim actress came when she walked in on her then-husband sleeping with a masseuse who they had been "carrying on a consensual three-way relationship with."
The couple, who was married for nine years, released a statement announcing their split in February 2014 that said, "We will always love each other and be best friends, however, we have mutually decided to separate at this time."
Do you think that Paula Patton should give Robin Thicke another chance? Let us know in the comments.