All For Show? Robin Thicke Sings About Wanting Wife Paula Patton Back -- Then Visits Strip Club!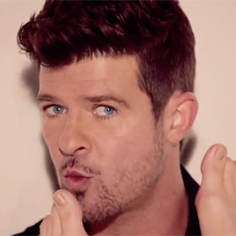 Robin Thicke's Blurred Lines Tour has practically been dedicated to his estranged wife Paula Patton, with the singer giving heartfelt speeches about trying to win back his love at almost every stop. But offstage, RadarOnline.com has learned, he hasn't changed his ways: After professing his love for his wife onstage in Atlantic City on March 2, Thicke was reportedly spotted hanging at a local strip club just days later!
Article continues below advertisement
Thicke hit up Philly skin spot Delilah's Gentleman's Club late Wednesday night, according to local blog PhillyChitChat.com. Before that, he had dined and socialized at Capital Grille until roughly 10:15 p.m. -- and he wasn't wearing his wedding ring.
But just days before, he had played the heartbroken hubby onstage during his concert in Atlantic City Sunday night. "Never stop believing and never stop loving," he said onstage at the Borgata Hotel Casino & Spa. And when a fan yelled out "I love Paula!" he answered, "I do too." He also dedicated Al Green's "Let's Stay Together" to his former high school sweetheart.
And on February 27, in Fairfax, Virginia, he laid it on just as thick, saying "For y'all that don't know, me and my wife separated, but I'm trying to get my girl back," before dedicating "Lost Without You" to Patton.
Late nights out were typical for Thicke in the weeks before his split: As RadarOnline.com reported, he was spotting partying at Crazy Horse strip club in Paris earlier this year, after making out with a local woman on the dance floor following his concert in the Parisian capital.