In Loving Memory': Taylor Swift Leads Charge Of Oscar de la Renta Tributes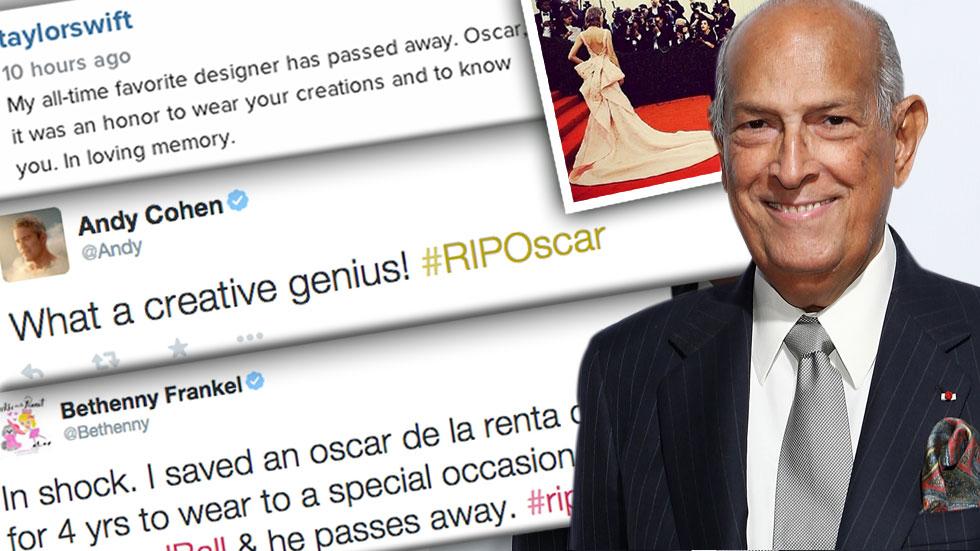 Tributes from all corners of the entertainment world poured in Tuesday for designer Oscar de la Renta, after the iconic fashion designer died at 82 Monday at his Connecticut home.
Taylor Swift, who sported the designer's work at this year's Met Gala, wrote on Instagram that her "all-time favorite designer has passed away.
"Oscar, it was an honor to wear your creations and to know you," the singer wrote. "In loving memory."
Article continues below advertisement
Bethenny Frankel wrote she was "in shock" and shared how she "saved an oscar de la renta dress for 4 yrs to wear to a special occasion #TheAngelBall & he passes away. #riposcar"
Andy Cohen called the designer a "creative genius," and Zoe Saldana tweeted, "Iconic legendary genius, gone but definitely not forgotten ... My heart goes out to the De La Renta family."
Jennifer Garner, who sported his work at the 2014 Academy Awards, said that "Mr. De la Renta loved women and you saw it in every design that he did. "He honored women's features, he honored our bodies," she said. "He wasn't afraid to pull back and let the woman be the star of the look." Hollywood veteran Jamie Lee Curtis wrote on Twitter, "I've worn Oscar de la Renta's signature fragrance my whole adult life. It is like his designs & life. "Classic, soft, feminine & elegant. RIP." Ivanka Trump tweeted she was "truly saddened by the loss of one of the greatest fashion icons of all time," and that the fashion icon "will be greatly missed."
The designer's works were worn by first ladies including Michelle Obama, Hillary Clinton, and Laura Bush, who said that "Oscar's generous and warm personality, his charm, and his wonderful talents" will be missed.
Visit NBCNews.com for breaking news, world news, and news about the economy
"My daughters and I have many fond memories of visits with Oscar, who designed our favorite clothes, including Jenna's wedding dress," Bush said. "We will always remember him as the man who made women look and feel beautiful."
Article continues below advertisement
"All that we have done, and all that we will do, is informed by his values and his spirit."