Exclusive
Tequila & Hookups: Little Big Town Talks New Album 'Pain Killer' & Secret Stories From The Road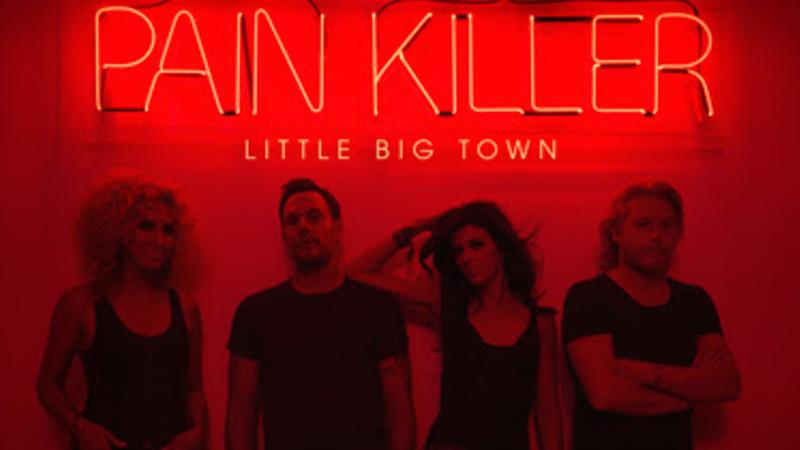 Grammy award winning country group Little Big Town — Karen Fairchild, Kimberly Schlapman, Jimi Westbrook, and Phillip Sweet — has been on the scene since they released their self titled album in 2002.
Now, 12 years later, the quartet drops their sixth album, Pain Killer, on Oct. 21.
RadarOnline.com caught up with Schlapman and Sweet shortly before the drop of Pain Killer, and the pair opened up about recording their new album, working with Miranda Lambert, and what is like to be a Little Big Town band member.
Article continues below advertisement
Radar: What's your favorite "Day Drinking" story?
Sweet: We were playing a show with Keith Urban. It was a long list of artists on the show, so I remember we all went and ate Mexican food outside. I think we had a couple of margaritas in the higher elevation. That's like the equivalent to four margaritas. We got a little over served in the higher elevation. I think Karen got a little sick. That was a good time, but I don't think Karen has had tequila since. ​
Schlapman: I think about a lady who had too many day drinks recently at a show. She crawled up on stage while we were singing and pretty much accosted Phillip. She was obviously day drinking all day and she had it as her goal that Phillip was going to be hers. It was like she was in the military. She crawled up on the stage and she was all over Phillip.
Sweet: I was like, "Will someone please get her off me?" There wasn't a whole lot I could do because I was in her grip.
Article continues below advertisement
Schlapman: He could not defend himself really well because he had his guitar and she had him.
Radar: What's your favorite song off of your new album, "Pain Killer?"
Sweet: It's "Live Forever." I love what it says and of course we were the writers on that song. It's also personal and I'm just so proud in getting to say something like that.
Schlapman: That's also my favorite. When we wrote that song, a couple of days later, I was sitting by Daisy my 7-year-old daughter on her bedside, trying to get her to go to sleep. I started singing the chorus of that song to her. After a couple of times, she started singing it with me. She knew every word. That song is extra special for me that reason now. I love that song so much and it makes me think of my husband as well as my daughter and the great love that we have. Daisy, she always wants to stay at the show just long enough until we get to that song and then she's ready to go.
Radar: What's your favorite song of all time that you guys have sang?
Schlapman: Mine is "Boondocks." I still remember the day we wrote that and how much fun we had. We were out to prove who we were because at that time nobody really knew who we were and were kind of giving us a hard time about "Who put you together?" We put ourselves together and we wanted to prove who we were, so we set off to write that song. Everybody sings along and there's so much pride on everyones faces when they sing that song. It's like our first-born.
Article continues below advertisement
Sweet: I was thinking back to a moment we had with Lindsey Buckingham. We played CMT Crossroads, and we did "The Chain." I love the lyrics of "The Chain" and I loved the sound of that song. And singing it with him was one of the most special moments.
Radar: You guys also worked on the song "Smoking And Drinking" with Miranda Lambert on her new CD. Can you share one story from growing up that reminds you of that song?
Sweet: For me, it was probably the lake in my college years. We would all go out and we went on a pontoon boat on the weekend, not smoking or drinking. Nobody operated the boat drunk, but we definitely brought coolers, had a fun time, and we did party.
Schlapman: My first husband was an avid rugby player. When I was in college, I remember he was playing rugby every weekend and we would travel around to the rugby tournaments. Rugby kind of revolved around smoking and drinking. I just remember great memories of all of our friends at those tournaments and just having a good time on the weekends and playing a little ball and then having a little party afterwards.
Article continues below advertisement
Radar: Who is one artist you would like to work with in the future?
Sweet: We love Paul McCartney: the beautiful harmonies and stuff he has written.
Schlapman: Dolly Parton is my dream because… well, she's Dolly! We've never even met Dolly. I live near her, and I keep thinking I'm going to run into her in Publix, but I never have.
Radar: What's the best piece of advice another artist has ever given you?
Sweet: Reba McEntire just gave us really good advice the other night. She came on stage while we were singing at the Grand Ole Opry and she delivered the news that she was inviting us to be Opry members. Backstage, when we were hanging out, we were trying to take it all on and she was like, "Just take a few minutes… take several minutes and enjoy it." She really advised us to take a moment and enjoy it because it all goes so fast and moves so fast.
Article continues below advertisement
Schlapman: I also think of John Mellencamp. We recorded with him one time. We started to talk about songwriting one night and he just encouraged us to step up our song writing. He threw out the song, "Angel Flying Too Close to the Ground," and he said, "That should be your mark. You should work to write a song in that caliber every time you sit down to write a song." Those words certainly ring in my head a lot.
Radar: You both have 7-year-old daughters. Do they travel with the band?
Sweet: They do travel with us as much as possible. They're such buddies. They love being with each other. They're almost like siblings. They get to hang out outside of their normal lives and they have a special connection. They are all very musical, creative children. We have a great time with them and they have their own bunks on the bus. They think every kid has a bunk.
Article continues below advertisement
Schlapman: Yea, they think that's totally normal! Hopefully, when they get older and realize every kid doesn't, they won't get mad at us for doing this to them.
Radar: What's the hardest part about having a young family and being on the road?
Sweet: The challenge of travel isn't always so easy. I know it's more comfortable than it could be, but it's still an effort to travel and dragging them around. They're little troopers for being road dogs.
Schlapman: I think all of their travel and seeing brand new people everyday has made them really friendly, which I'm really proud of because you want your child to be outgoing and kind.
Radar: There are four of you guys in the band. Does it ever get competitive as a group?
Sweet: We've always had a healthy, competitive spirit with each other in a way that we always push each other to do better. There's no maliciousness with us, it's all very playful and fun. But we are definitely competitive in trying to outdo each other and see who can hold their note the longest.
Article continues below advertisement
Radar: Does it ever get weird that your other two counterparts — Westbrook and Fairchild — are married?
Schlapman: I think the fact that they weren't married when we formed our band was a good thing because I think they don't team up on us or against us. In the band, they're very much individuals. I think that's probably because we were a band first.
Sweet: They used to butt heads way worse. They had all this underlying tension because they really liked each other. When they did get together, it did solve a lot of those issues. It has gotten more fun as the years have gone by, too. I think we know how to enjoy ourselves and get not too stressed out.
Radar: What are you most excited about for this "Pain Killer" tour?
Schlapman: I'm so excited about playing the new songs. We have more toys than we've ever had before as far as production goes, so we've really stepped it up. It's going to be fun to see fans' reactions to it and see what they're favorites are.
Sweet: I'm also a big fan of the other artists that are going on tour with us: Brett Eldredge and Brothers Osborne. For us, it's cool because we get to have a platform to showcase other artists that we feel are really great out there and doing great music. So, it's exciting to kind of put a package together. And we're excited to see and fulfill that long dream of and proud to be headliners.