Exclusive
Catching Up With Rascal Flatts! The Band Spills On 'Rewind,' Touring With Their Families & Lip Syncing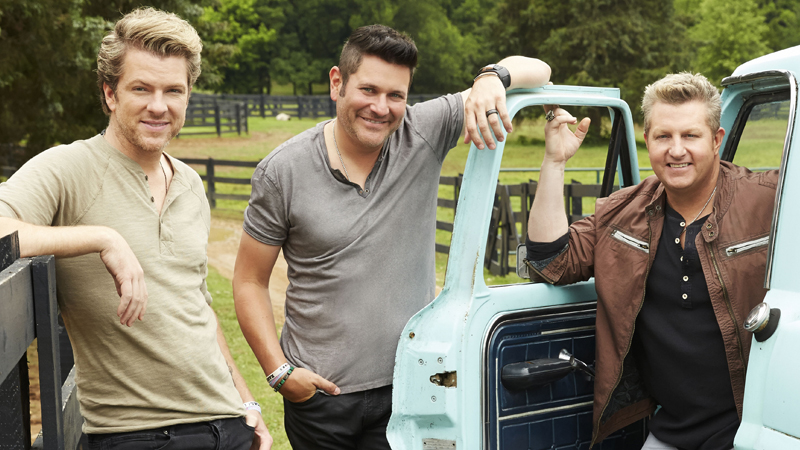 Hit country band Rascal Flatts — who recently partnered with Nexium 24HR — has been spending the summer touring to promote their new album Rewind, which was released May 13.
But in the midst of their hectic schedules, RadarOnline.com got the chance to catch up with the three band mates — Gary LeVox, Jay DeMarcus, and Joe Don Rooney — to talk about life on the road, their new album and much more.
Radar: How do you guys personally relate to your single, "Rewind?"
Article continues below advertisement
Rooney: Obviously I think about my wife Tiffany and the first time I met her. The first time we kissed kind of thing, that's beautiful. I go back in my head. So the video we did really captures that innocence of that boy being so in love with that girl.
DeMarcus: For myself, I go back to the moment I first kissed Tiffany too. I think about that over and over again. No, I'm kidding. It's the same kind of thing. Those memories and those magical moments that you want to ingrain forever in your brain and relive again. That's a special time in a relationship, especially at the beginning of it when everything's brand new. Lord knows that we've all felt that emotion before.
Rooney: You mean when they actually like you?
DeMarcus: Yeah, when they're actually willing to put up with you.
LeVox: Same. There are times that are just awesome to go back and recapture and relive.
Radar: What is your favorite song from your new album and why?
LeVox: "Riot" probably for me. I love the melody and what it's saying.
Rooney: There's a song called "Mechanic" on the album. It's the last track — and we save that last track spot for something really special on every album. The title, don't let it be so deceiving because the lyrics are beautiful. It's singing from the perspective of a guy that that might be broke down like an old car but his wife is like the mechanic. The love she has for him fixes him every time without fail.
Article continues below advertisement
DeMarcus: I love the song called "DJ Tonight." The melody is so infectious and it's something that was a little bit different for us. When we finished it, it was refreshing to hear a new side to us.
Radar: What is your favorite song of all time from your albums?
Rooney: My favorite song that we've done is called "I'm Moving On." It's from our first album. All of us relate to that song. Leaving our nest, leaving our homes —Ohio for these guys, in Oklahoma for me — to go to Nashville, and to try to do music your whole life and actually try to be successful. "I'm Moving On" is just one of those healing songs. One of those songs about challenging yourself to get through what you're going through.
DeMarcus: "Broken Road." That melody and the lyrics, it's a perfect marriage between the two. It's been the soundtrack for countless weddings. I think we all felt it at one time or another when we finally found the one that we'll end up with.
LeVox: "Life Is A Highway" because my kids really thought we were cool after the "Cars" movie. That kind of gave us some clout at the crib.
Article continues below advertisement
Radar: Were any of your songs your first dance tunes in your weddings?
DeMarcus: I met my wife on a video shoot for 'These Days," and I sang "These Days" to her from the stage at our reception. That was our first song.
Radar: Does it ever get competitive between you all?
LeVox: No, not at all.
DeMarcus: Because I sing it all! Mocking lead singer, LeVox
LeVox: I'm the one with the damn gift. Competition? Have you heard the last nine albums? There are times — even if we don't record them like that — we'll do them live in the show like that because Jay and Joe, they're both great singers. And I sure appreciate the break so it's beautiful.
DeMarcus: A guy has to pee sooner or later
Radar: Do your families go on the road with you guys?
DeMarcus: They can't wait to get rid of us.
Rooney: Yeah, we get home on a Monday and they're looking at they're iPhone saying, "When do you leave this week? Is it tomorrow?" "No, it's actually Wednesday. I'm home for a few days this week. Sorry." It is a balance and we try to take our families out occasionally. They want to go to the fun cities
Article continues below advertisement
Radar: Is it hard for you to leave your daughters at home?
LeVox: It is, but I get to take them with sometimes. Actually, my 14 year old and her friends, they had a sleepover on the bus. It was the most expensive road trip. We didn't make a dime! I bought manis, pedis.
Radar: Who is one artist that you guys are still dying to work with?
LeVox: I'd love to do something with P!nk. She's just a phenomenal, raw, gifted, passionate singer. And it would just be a lot of fun to come up with something powerful.
DeMarcus: I'd love to do something with Billy Joel. I'd like to play piano with Billy Joel, like a dueling piano type of song.
Radar: You guys admitted to lip syncing to a recording of "Rewind" during the Academy of Country Music Awards in April this year because Gary had lost his voice. Have you guys ever lip synced before that?
LeVox: No, never. That was the first time we'd ever done it.
DeMarcus: That was the first time we'd ever done it, and we suck at it.
Article continues below advertisement
Rooney: Obviously we weren't very good at it.
LeVox: First and last.
Rooney: That was a decision with the ACMs and our label and our management and us all at one time in the same room saying, "Okay, the show must go on. There's nothing to fill that spot for three minutes." So we had to do it. It was one of those things we had to. It is what it is.
Radar: What is the best advice a famous musician has ever given to you?
DeMarcus: Be the lead singer. Vince Gill. He said, "You know where you screwed up? You weren't the lead singer."
Rooney: I remember sitting with Dann Huff — he's produced a lot of albums on us — and learning from him how he plays guitar. And listen to his wisdom when it comes to crafting a solo for any song and playing a particular tune, to maybe set the guitar down and sing the solo. Create it from your mouth first, sing it with your voice. And then finding it on the guitar with your fingers. It will go somewhere different because you normally go to the same patterns.
LeVox: My mom always said, "Don't eat yellow snow," But something that Vince Gill told us one time was, "Be as humble going up as you are going out." It's just to be gracious and humbled because we truly have the greatest jobs in the world. We get to touch people's lives through music and it's really great.
Radar: You guys have been around for 14 years. What is the key to success?
LeVox: The key to our success is to, when you come to a Rascal Flatts show, make sure you schedule your c-sections around our tour dates so that way we can keep the next generation flowing in and out of this thing.