Kris Jenner Posts Apparently-Altered Pic With Gordon Ramsay — After Chef Uploaded Same Shot In Normal Form!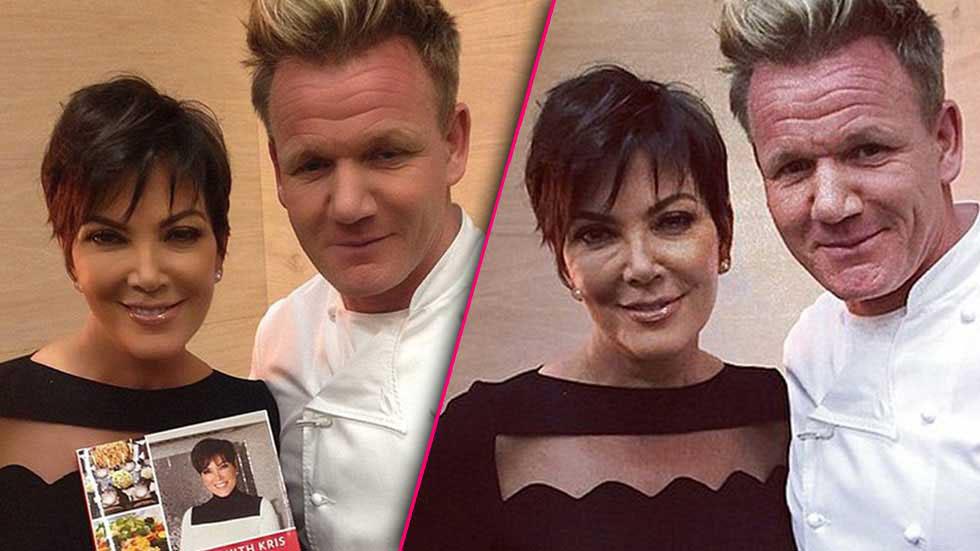 Kris Jenner might have gotten her hand caught in the photoshop piggy bank Monday.
The sexy "Momager" uploaded a soft, glowing image of herself with chef Gordon Ramsay at an event in promotion of her new cookbook, In The Kitchen With Kris.
http://instagram.com/p/uYljrVG-ON/?modal=true
"Thanks so much @gordongram for the shoutout and for your amazing support!!" she wrote, adding, "#Legend #GordonRamsay #InTheKitchenWithKris."
Article continues below advertisement
Just one problem: Ramsay, 47, himself had uploaded the same picture — with both stars looking grittier and more wrinkled without all of the imaging effects Kris, 58, had apparently applied to the shot.
Seven months prior to that, experts said that Kim's waist, in her famous "Bound 2" music video with husband Kanye West, had to have been digitally-altered, as it did not match up to pics of her taken around the time she filmed the racy clip
Kris is busy this week promoting her cookbook In The Kitchen With Kris, which hits shelves Tuesday.