Bound 2 Get In Shape! Trainer-To-The-Stars Harley Pasternak Takes You Inside Kim Kardashian & Kanye West's Joint Workouts, Reveals That 'They Really Are Best Friends'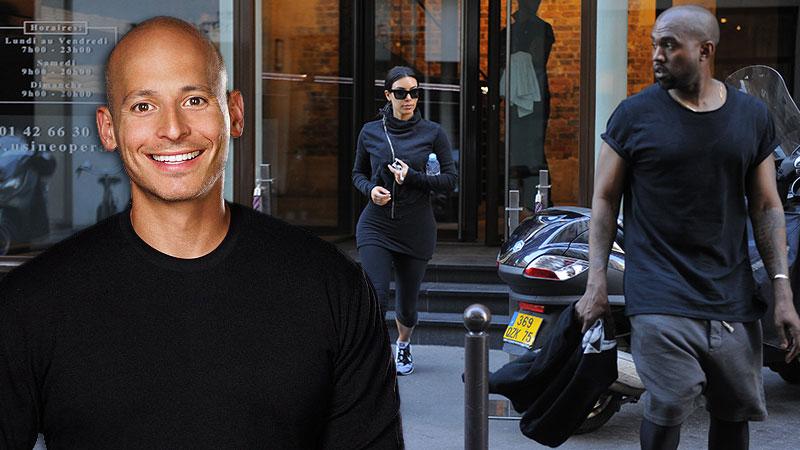 Kim Kardashian and Kanye West "really are best friends," and "never run out of stuff to talk about," their personal trainer, Harley Pasternak tells RadarOnline.com exclusively.
The venerated trainer-to-the-stars explained, in detail, about how deeply engaged and communicative the A-list couple interacts with one another.
While "I have him doing chest stuff and I have him doing inner thigh stuff," he said, "they are talking about North West, or architecture, or fashion or whatever."
Article continues below advertisement
Pasternak, who just had finished training the Keeping up with the Kardashians beauty when the interview was conducted Wednesday, said that the reality star likes to "change up" her workouts and "has to be in the right frame of mind for them to work out together."
"Today, Kim said she was ready to push it a little bit further," Pasternak told Radar. "She works had and doesn't overdo it and has a great balance."
Pasternak, who trains such huge celebrities as Jessica Simpson, Robert Pattinson and Megan Fox, can even take some credit for Kardashian's world-famous rear-end!
"I throw her on the Helix Lateral Trainer," he says, "which is great because it focuses on the butt and hips."
"We did some hip thrusts and reverse lunges and stiff leg deadlifts. It really tones and tighten the whole thigh and butt area."
But that does not mean that the KUWTK beauty, 33, only likes to work on her backside.
Article continues below advertisement
He said her fitness mentality — "which is smart" — "is that there is no part of her body where she thinks, 'This part of my body cannot be improved upon' — As a result we train everything."
While Kardashian and her Yeezus rapper husband, 33, may get a bad rap at times, their trainer tells a different story.
"They are really cool clients and friends and they work really well together — they are just great friends," he says.
Pasternak is the author of several New York Times best-selling books including "The Body Reset Diet," which involves three smoothies a day in the first five days. He has also created his own blender, which should be coming out in just a few weeks.
"I spent a year and a half working on a blender that is of high-caliber for not a high price," he explains. "It would be a great gift for the holiday season."