Exclusive
Ka-Ching! Kim Kardashian To Earn $500,000 For Las Vegas Birthday Bash — Is She Worth It?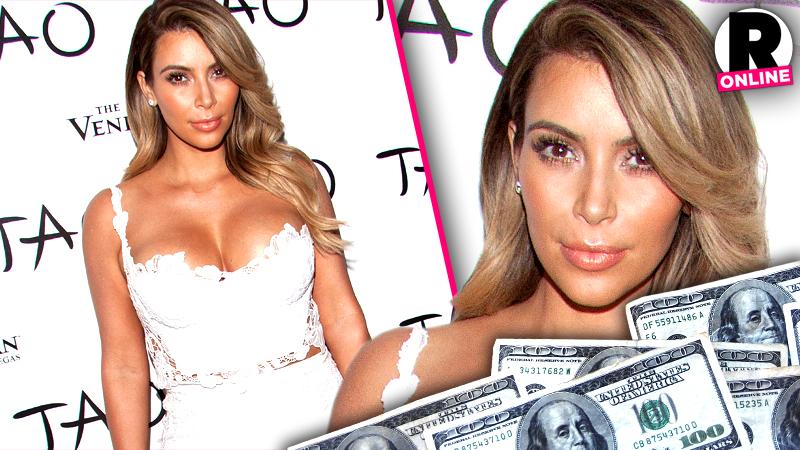 Happy birthday, indeed. RadarOnline.com has exclusively learned that Kim Kardashian will start off her 34th year with a $500,000 deposit to her bank account — because she is going to be paid that much to celebrate her 34th birthday at TAO nightclub in Las Vegas on Friday night.
The famed nightclub at the Venetian Hotel on the the Sin City strip "will be paying Kim $500,000 to spend at least four hours in the club," an insider told RadarOnline.com.
Article continues below advertisement
"Kim will also mingle with other clubgoers who have reserved tables at the platinum level, which cost $5,000, " the source said. It's expected that Kardashian's husband, Kanye West, will also be by his wife's side, and momager Kris Jenner will be in attendance too.
But steep as her price tag may sound, Kardashian often rakes in far more for lending her name to companies. RadarOnline.com recently uncovered secret business emails from the star's reps outlining just what it takes to get Kardashian involved with a product launch — and her over-the-top demands are truly shocking.
According to the emails, Kardashian's minimum rate for an endorsement is $750,000 to $1 million.
For travel related to personal appearances for the brand, the Keeping Up with the Kardashians star requires "5 first class tickets, plus 1 coach, first class hotel accommodations (1 suite for talent and standard rooms for others in party), portal to portal first class exclusive ground transportation, airport greeter service, security, glam fee (day rate for her hair and makeup squad), and a per diem," the emails read.
As such, the Kardashian insider revealed, "Kim will be staying in the presidential suite at the Venetian on Friday night, with Kris, in a nearby suite, equally as luxurious. The Venetian's private jet will also take Kim and her entourage from Los Angeles to Las Vegas. Kim won't have to lift a finger the entire time she is there."
Would you pay to party with Kim? Let us know in the comments!