Kendra In Denial? Star Says She 'Didn't Even Care' About Audio Confirming Hank's Affair With Transexual Model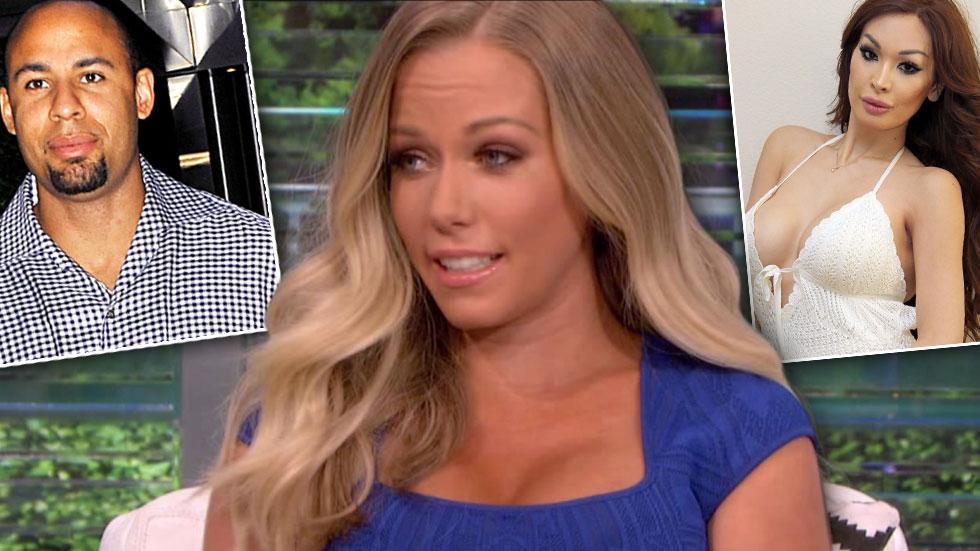 Kendra Wilkinson is seemingly in denial about Hank Baskett's affair with a transsexual model, insisting with half-hearted statements, and paper-thin excuses, as to why it didn't get to her.
The Girls Next Door star, in a chat with E! Wednesday, went as far to say she "didn't even care" hearing her husband confirm the affair in RadarOnline.com's exclusive audio exchange between the two — despite on-camera meltdowns and tantrums that say otherwise.
Article continues below advertisement
"It was nothing," she said of listening to the Hank's taped exchange with Ava Sabrina London, in which the former Philadelphia Eagle, 32, fretted over the public coming to learn he'd "hooked up with a tranny."
But according to Kendra, hearing the conversation "didn't even do anything" to their relationship.
"It didn't make anything worse," the 29-year-old said, unconvincingly. "It was just recycled crap."
The mother-of-two remained noncommittal about the state of her marriage, as she said only time will tell how things wind up.
"I'm not making a rash decision, divorcing or staying with him," she said, adding that she's "just trying to let things happen naturally and let things play out a little longer" before making a decision about her union.
The Playboy Playmate did admit that learning of the affair — which happened in April while she was pregnant — left her "in a position where it came down to literally a signature for the divorce to go through," until fate intervened.
Article continues below advertisement
"Something held me back," said Kendra, whose also tried to repair things with Hank on WEtv's Marriage Boot Camp. "Something a bit more powerful pulled me away from doing that, and the power I believe is my heart.
"Everyone's given a heart to forgive at least once in their lives," she said, "and I believe this is the chance to use my heart I was given."
Of course, who knows how she'll react when she hears the latest batch of Radar's exclusive audio, in which a man answering to the name "Hank" gripes to London about how Kendra "wants to leave him now."
As RadarOnline.com previously reported, the former NFL wide receiver paid $500 for a 20-minute tryst with London in April, in which the pair engaged in mutual masturbation, leading Kendra's hubby to ejaculate.
Kendra on Top airs on WEtv Fridays at 9/8c.