Duchess Still In Crisis! Pregnant Kate Middleton Takes Refuge At Family Home With Her Mom And Dad As Morning Sickness Worries Mount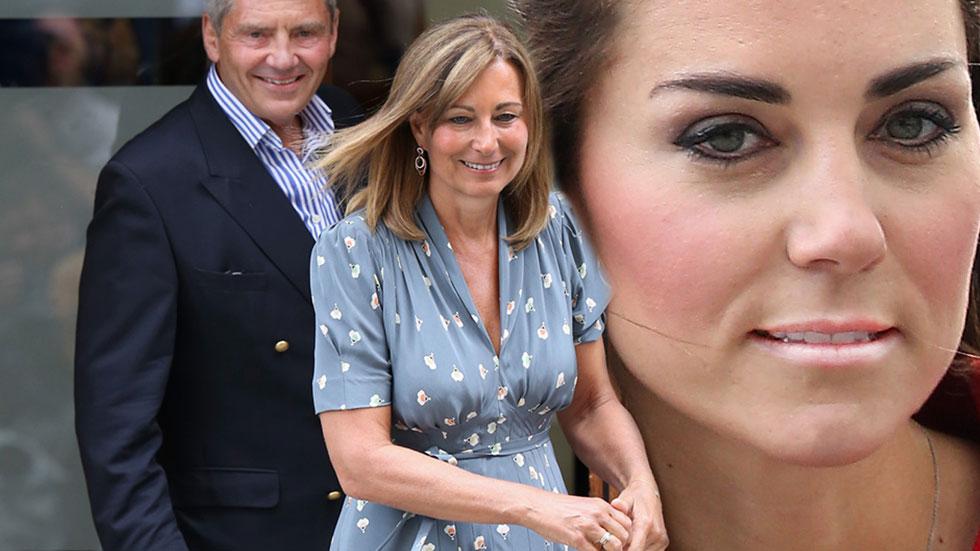 Kate Middleton has taken refuge with her mom and dad while she still suffers from devastating morning sickness, according to a new report in the Daily Mail.
The Duchess of Cambridge, 32, has gone back to her family home in Bucklebury, Berkshire, this week with her son, Prince George, Daily Mail sources say, to get some tender loving care from folks Michael and Carole Middleton during her difficult second pregnancy.
Article continues below advertisement
As RadarOnline.com has reported, Prince Williams' wife's scary morning sickness, known as hyperemesis gravidarum, can cause severe symptoms including weight loss and vomiting during pregnancy.
And RadarOnline.com's previous exclusive revealed that photos of the princess' pin thin body are sparking concern about the royal mom-to-be.
A source told the Daily Mail that Kate, "hasn't been at all well" as she battles hyperemesis gravidarum.
Now, her mother Carole has apparently helped to take charge of her recovery and has been researching alternative sickness cures, such as herbal tea, on the internet, a source said.
And although Kate has a nanny, Carole has also been babysitting George, now 15 months, so her daughter can rest. The proud grandma has been seen in local shops with the little royal heir.
A source told the Mail, "'Kate is feeling so lousy that she just wanted to be with her family and out of public view.
"She is extremely close to Carole, who is very much a hands-on grandmother. Between her and their nanny, Maria, Kate has all the help she needs with George while she is feeling so sick. And Bucklebury is somewhere she can just relax and be herself."
As RadarOnline.com has reported, Kate has backed out of some royal duties recently with Prince William filling in for her.
Buckingham Palace has announced that the Duchess is expected to take part in the state visit of the president of the Republic of Singapore on October 21. However, a source told the Mail, "Her attendance will be reviewed closer to the time, depending on her health."