Abandoned! Kanye Jets To Europe Without Kim, Scott Ditches Pregnant Kourtney To Party & Khloe Can't Find Lamar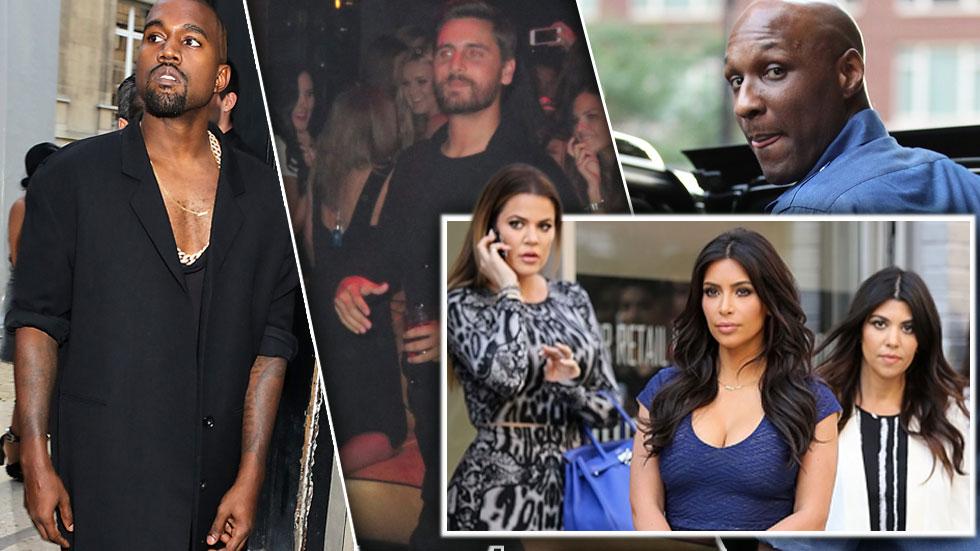 While the Kardashian sisters may seem irresistible to some, their men can't get away fast enough!
According to Life & Style, Kim Kardashian's husband Kanye West is headed to Paris to record his next album— without the reality star, 33, and their daughter North, 16 months.
"He's leaving them for a few months," an insider tells the magazine, adding that the rapper, 37, is also planning to stop in Milan and New York while Kim films Keeping Up With the Kardashians at home in Los Angeles. "He just does whatever is best for him."
Article continues below advertisement
But don't ask the busy mom about her hubby's schedule.
"She is literally the last to know about Kanye's plans," the insider adds. "He keeps her in the dark and completely deserts her."
Meanwhile, Kourtney, 35, knows her baby daddy Scott Disick's plans— but she isn't thrilled about them!
The failed restaurateur, 31— who was hospitalized for alcohol poisoning after a boozy birthday party in June— will be hosting a Halloween bash in Ottawa, Canada on October 31.
"He'd rather be with his friends partying and trying to come up with some new get-rich-quick scheme, while Kourtney just wants to settle down," an insider tells Life & Style of the couple, who are expecting their third child, a girl, next month.
Sister Khloe may be single, but she can't track down her estranged husband Lamar Odom.
According to Us Weekly, the 30-year-old has been unable to contact the troubled former NBA star, 34, who abused drugs and blatantly cheated during their five-year marriage, in order to settle their divorce.
"She can't even get in touch with him right now," says a source. "He's living with some guy she doesn't know. He uses prepaid phones and constantly switches his number."
Though they split last December, Khloe "still loves Lamar," reveals an insider. "She gets very emotional when he's doing bad things. There's a part of her that can't let go and wishes he could change, but she realizes he won't."