'As Your Mother, I Bless You': Jill Duggar Honored By Parents, Siblings & Pals On Pre-Wedding Edition Of '19 Kids And Counting'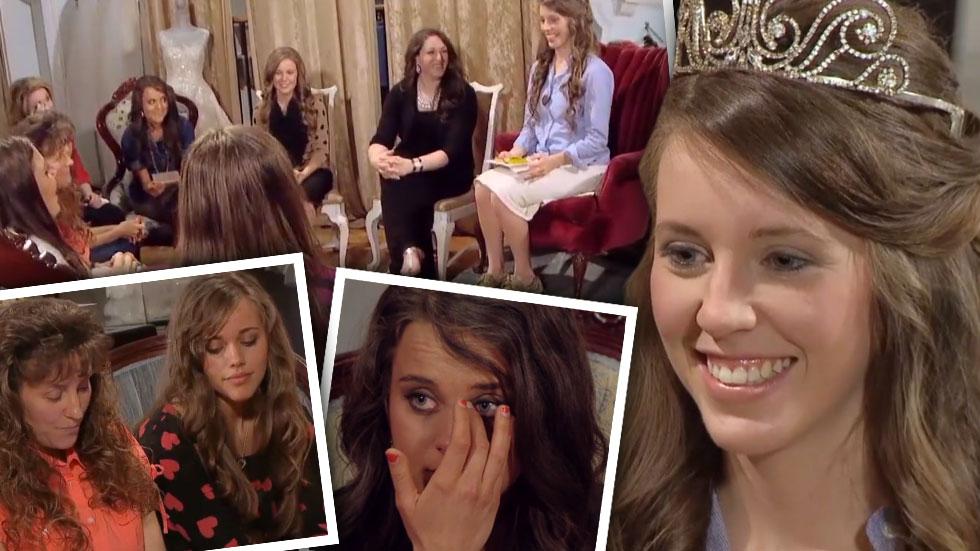 Jill Duggar's bridal shower, in advance of her wedding to now-husband Derick Dillard, was the focal point of Tuesday's 19 Kids & Counting, as a large group of family and friends congregated to celebrate her past, with a bright eye toward the future.
The shower for the 23-year-old was a beacon to all of the midwives in the community who Jill has helped deliver children for in the past, and there were dozens of adorable babies on hand (obviously foreshadowing Jill's own recent announcement that she's expecting a baby boy with her now-spouse).
Article continues below advertisement
"It is so much fun to see all of the mothers and the babies that I've either helped during their pregnancy or the birth," Jill said, "and just getting to see all of them at one time is just so much fun."
Still, the pitter-patter of little feet grew too much for the fourth-oldest Duggar sibling, as she vented about the inconvenience of a huge group shot with the tots.
"There were a lot of baby noises going on — crying, cooing, and once one starts, they all start," she said.
MORE ON:
19 Kids and Counting
Also in the episode, Jill's mother Michelle graced her daughter with a teary speech, telling her, "As your mother, I bless you."
Later in the episode, Michelle said, "I can't believe that Jill is about ready to walk down the aisle … it just seems like yesterday she was little and now she's all grown up. It's kind of surreal.
"I mean, I'm joyful and I'm happy but it's like, where did the time go? I blinked and here we are."
The reality star's siblings chipped in with sentimental tales at the major milestone.
Joy-Anna 16, said that "It's really crazy to think that Jill's getting married and we are already having bridal showers for her."
19 Kids & Counting airs Tuesdays at 9/8c on TLC.