Get The 'J' Out! Jill Duggar, Expecting Baby Son, Says She & Husband Won't Do 'Letter Theme' Naming Their Children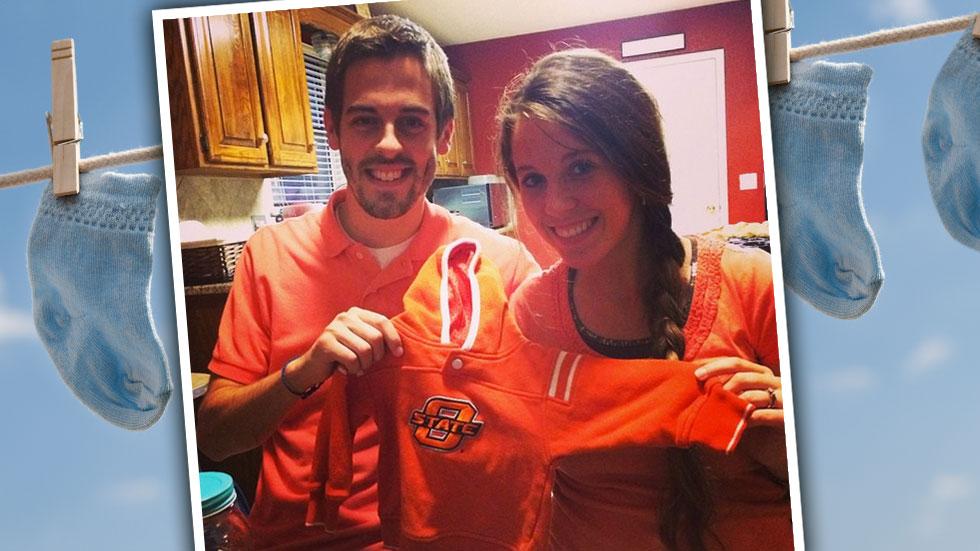 Jill Duggar and husband Derick Dillard are expecting a boy, RadarOnline.com is reporting, and the couple delivered other meaningful news Tuesday when they declared they will not be following in her parents' footsteps of giving their children names beginning with the same letter.
"We are not going to do a letter theme," she said. "But we may do some kind of theme, like family names."
The Springdale, AR. native told People that when three of her siblings were present for an ultrasound Saturday, "There was some screaming in the room.
Article continues below advertisement
"I thought all along we were having a girl," the 23-year-old told the magazine. "Everyone made their guesses."
On the ultrasound, their unborn boy "stretched out his legs full-length," Jill said. "He was trying to be like Dad."
"We could have a giant — I called Derick's mom and she was telling me that when Derick was born, he didn't fit into the newborn clothes and his shoes were a size two!" she said.
She said her parents Michelle and Jim Bob "were just elated" upon hearing the tidings.
Watch the video on RadarOnline.com
"My mom and dad both thought it was going to be a boy and my grandma did, too," she said. "They are all really excited."
Dillard, who exchanged vows with the reality star Jun. 21, told the magazine he "was really excited" to learn he'll be having a son.
"As a new dad, to have a firstborn son to be our first child and be the leader of his siblings, it is very special," said Dillard, 25. "I was praying for a big, healthy baby.
"And Jill added, 'Just healthy, healthy.'"
Earlier this week, Jill showed off her baby bump after 18 weeks of pregnancy in a shot with Derick, while the two were out shopping.
http://instagram.com/p/uWpcWHrs6Z/?modal=true
The Duggar family's program, 19 Kids And Counting, airs Tuesdays at 9/8c on TLC.