Girl Gone Wild! 'RHONJ' Daughter Gia Giudice Debuts Risqué 'Circus' Music Video With Band 3KT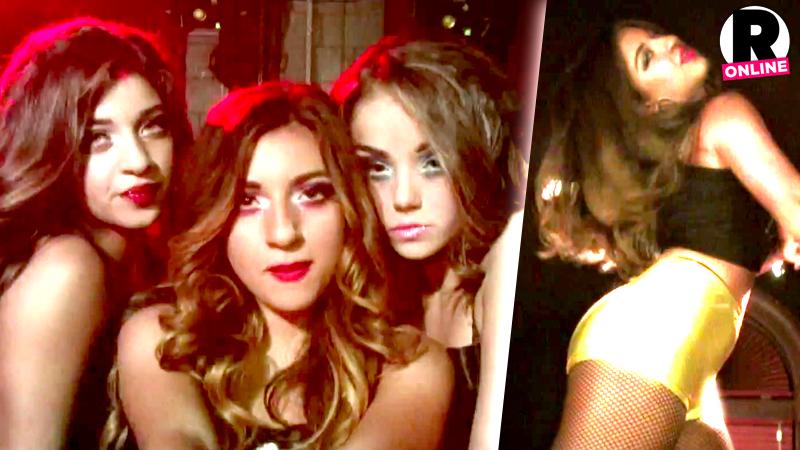 With Teresa and Joe Giudice off to prison, someone had to take over the family business of entertaining audiences. Their daughter, Gia, has more than readily stepped up to the plate with her new band, 3KT. But people are none too pleased with the reality star couple's daughter, saying she's too young to be exploited!
3KT, which consists of Gia, 13, and two pals, Alexa Maetta, 16, and Cristianna Cardinale, 14, and is represented by Xist Talent, released a racy music video for their cover of Britney Spears' "Circus," and YouTube users are slamming the little reality star and her girlfriends for their inappropriate outfits and risqué dance moves.
Article continues below advertisement
User Misha Micky posed a question after watching the video, asking, "why the hell do 13 year olds look like 25?" while another user asked, "Wow at 13 they act like wh*res."
Bria Bynum, another user who commented on the music video, said that girls Gia's age should act like teenagers, not adult women.
"Little girls like her should not be dressed like their grown women," she wrote. "I don't respect the fact that their parents allowed them to dress this way. She might be a really sweet girl but all this does is allows men look at them and disrespect them."
As RadarOnline.com previously reported, friends of the Giudice family expressed concern about Gia's band, agreeing that the trio was acting inappropriately for their young teenage years.
"Teenagers, especially, a 13-year-old should never be wearing a leather bustier," a family insider told Radar. "What kind of message does this send to other girls their age?"
A source also revealed to Radar that Teresa forked over five figures for the production, despite Joe's wishes to be fiscally responsible.
"Teresa didn't care and spent $10,000 for it," an insider told Radar. "The money Teresa paid only covered a fraction of the costs for the video. It was a very expensive to shoot, and the other girls' families also contributed."
Watch the video below, and tell us if you think the music video is inappropriate.
youtube=https://www.youtube.com/watch?v=ej0adQt87I0&w=551&h=340