Exclusive
Growing Up 'Too Fast'! Gia Giudice's New Band Sparks Concern Among Family Friends, Source Says – She Looks 'Like A Hooker'!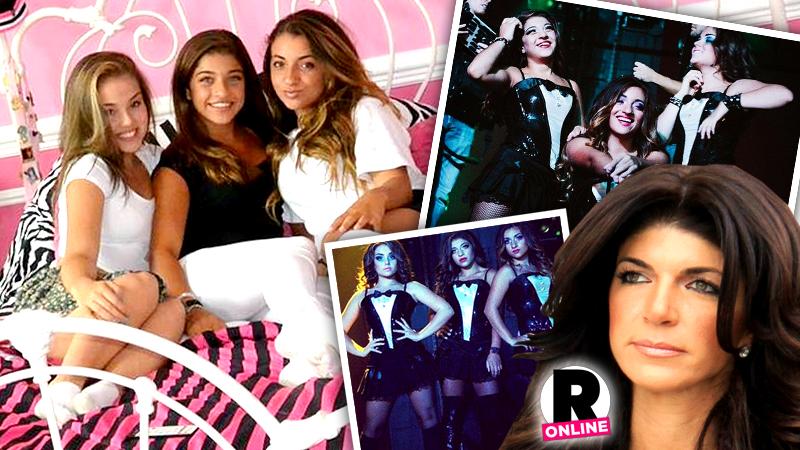 Prison-bound Teresa Giudice is complaining of being exploited by Bravo, but now insiders tell RadarOnline.com that she's the one doing the exploiting as her daughter, Gia, 13, has started a girl band. The reality star's daughter is taking her new gig seriously, as she recently posed with two other members of the group in thigh-high boots, fishnets, short skirts and heavy makeup, and RadarOnline.com has all the details.
Article continues below advertisement
Gia is a part of a female group, 3KT, along with Alex Maetta, 16, and Cristianna Cardinale, 14.
The young ladies recently shot their first music video, which will premiere on Halloween. Wearing very heavy eye makeup and risqué outfits that involve bustiers, the girls look "as though they are in their early twenties!" a source tells RadarOnline.com.
"Teenagers, especially, a 13-year-old should never be wearing a leather bustier," the source adds. "What kind of message does this send to other girls their age?"
But it seems that Teresa is letting her daughter's up-and-coming success blind her from the reality of the situation.
"Teresa is so proud of Gia and doesn't think there is anything wrong with how her daughter looks for the music video," the source continues. "Friends close to Teresa are comparing her to Lindsay Lohan's mom, Dina, which she would probably take as a compliment!"
"Gia isn't treated as a child by Teresa, but as a friend," the source claims.
Article continues below advertisement
According to the talent agency website that reps the girl band, "3KT is about to take the music world by storm! Xist Talent is excited to announce the formation of this hot new girl group, comprised of 3 young, talented teens... with roots in singing, dancing, rapping and acting."
Various pictures of Gia with the group feature her wearing Daisy Dukes, and even show her during dance rehearsals where she is sporting a midriff top.
"Gia is growing up way too fast and is being exposed to situations that no young lady her age should be around," the source added. "It's one thing to shoot a music video; it's another thing to look like a hooker!"