Bristol Palin Says She's Targeted In Brawl Coverage Because She's Conservative; Claims 'Perfect Manicure' Proves She Wasn't Punching Rival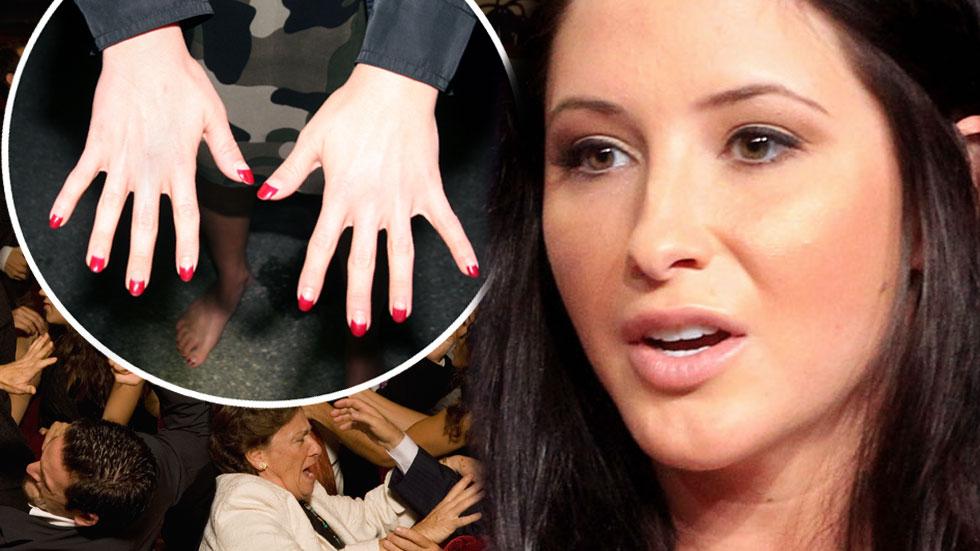 Bristol Palin makes some questionable rebuttals about her recent incident — which RadarOnline.com has exclusively on tape — in her first public comment about the Sept. 6 brawl in Wasilla, AK.
The reality star goes into detail over the incident in a new blog she posted on Patheos.com.
"Let me tell you what actually happened. Our friend got knocked out from a cheap shot from behind. Why would anyone do this? Well, here's a hint. The guy was on social media during this incident, tweeting, 'about to get famous,'" she wrote, adding that her sister Willow "saw all this happening … looked at the guy's mom and said, 'get ahold of your son.'"
Article continues below advertisement
"But apparently the apple didn't fall too far from the tree, because his mom pushed Willow. A grown woman pushed my little sister."
Bristol wrote that even though she'd already boarded a vehicle, Willow's tears caused her to get out of "the car to go talk to her," something she felt she needed to do as a caring "big sister."
As soon as she got out of the car, Bristol wrote that "a guy in his late thirties or early forties" — later identified as Korey Klingenmeyer — "got in her face … puffed his chest out and started yelling," calling her names like "c*nt" and "sl*t" and "pushing her down."
"That's when I swung and hit his face," Bristol wrote. "Some would say I should've never retaliated in defense against him, but certainly he should never have pushed a girl."
Bristol wrote that Klingenmeyer "pushed her down to the ground and kept her there … until someone got her out of the situation."
"The incident was scary and infuriating," Bristol wrote, noting that she had bruises "from being pushed down."
Article continues below advertisement
Bristol denied reports she hit Klingenmeyer with an unusual array of excuses — she's lefty, she doesn't know how to punch, and even offered one tied to nail polish.
"After this incident," she wrote, "I still had a perfect manicure on all ten of my nails."
But according to the police report ultimately filed, Klingenmeyer "said that he approached Bristol and got in her way, telling her that it was his house and party and that she was not going to start any fights and that she needed to leave.
"Korey said that he then told Bristol to leave again and she began punching him in the face repeatedly, using both hands. Korey said that it did not knock him down but that it hurt and he grabbed Bristol's arm and held her back, pushing her down while holding her hand as she was attempting to strike him."
Palin also claimed she's being picked on because she's "a conservative," and "once again, the hypocrisy of the media is laid bare."
Article continues below advertisement
At one point, Bristol tries to draw parallels between herself and another politics-related figure in the news for all the wrong reasons — but it's clear she didn't check her facts too thoroughly.
"Did you even hear about Vice President Joe Biden's adult son who was ? (That's the real Vice President's kid…) So pause for a moment and consider the hysteria over our stupid 'incident,' compared to our actual Vice President's son not even being able to hold on to a position in the Navy Reserve."
"Of course, you didn't. Because the friends and family of the revered liberal elite are treated like delicate China. Don't handle too roughly. They are precious. They are off limits. Don't push on them too hard."
Just one problem, Bristol: RadarOnline.com reported on the story, with no mind toward Biden's political relationships.