Exclusive
Shut Up, Teresa! Giudice's Attorneys Tell Her To Quit Twitter, Zip It, Until October Sentencing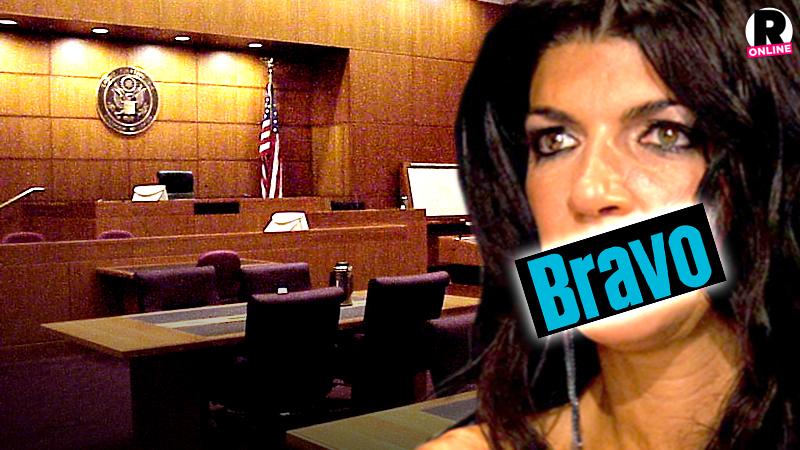 Teresa Giudice just can't catch a break. RadarOnline.com has learned that the legally troubled reality star's attorneys are furious at her for agreeing to flaunt a $2,000 Valentino bag on a recent episode of Real Housewives of New Jersey. Concerned her behavior could sway the judge in her upcoming fraud sentencing, the legal team has ordered her to quit social media, and keep a low profile until after the proceedings on October 2.
Article continues below advertisement
According to an insider, Giudice's reality fame "is actually hurting her. All of her bad behavior is caught on camera, and there is a chance the judge or prosecutors could use that against her."
"After reading the report of Teresa carrying such a high priced designer bag, her lawyers were furious," the source continued. "It just looks bad after coming out of her bankruptcy drama. Teresa told her attorneys that the producers asked her to carry the designer handbag, and she felt obligated to do so, but they were still mad and told her to keep quiet."
Indeed, on Tuesday, Giudice revealed on her Bravo blog that she was going into lockdown mode as she prepared for her upcoming sentencing.
"Wow. I really have so much to say. I will share, but I'm getting ready for the biggest day of our lives. I will be sharing when I can," Teresa wrote. "But now is the time when I need to focus on the next ten days and not comment on the episodes. I love the show. I love my fans. I will be telling you all along with my Bravo family very soon.​"
Article continues below advertisement
She also hasn't tweeted since Monday, September 22 — the day of Radar's story about the purse debacle.
Eagle-eyed viewers — including Radar! — caught a somber Giudice carrying the "Valentino Rockstud medium leather trapeze bag" from the Italian designer's most recent collection, which retails for roughly $2,400, on Sunday night's episode.
An insider told Radar, "Teresa was given a Valentino handbag by producers of the show to use for filming. They wanted her to look extremely wealthy while looking for a new house, especially because she was downsizing."
Still, the source revealed, "The purse was on loan but Teresa expected to keep it. When producers told her she had to give it back, she wasn't happy about it at all!"
Teresa could be sentenced to up to 27 months in prison, while husband, Joe could be facing 47 months.