Exclusive
'RHONY' Star Richard Easton Plans $1M Defamation Lawsuit Over Claims He Was Tenant From Hell: Landlord Said He Threw Knives, Streaked & Worse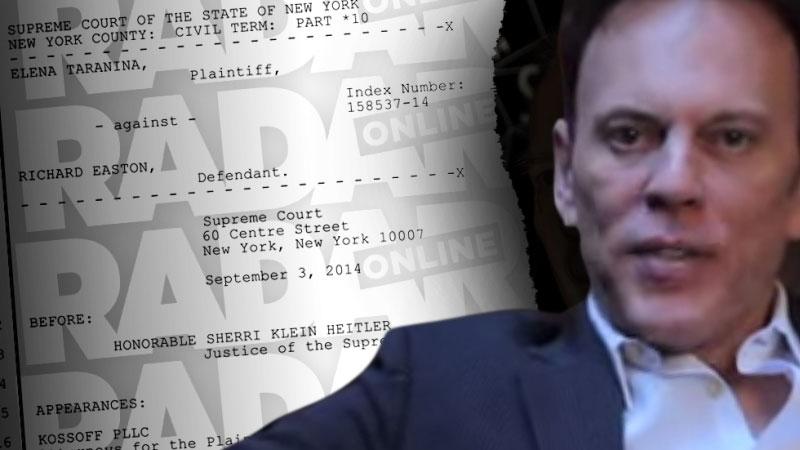 Is Manhattan matchmaker Richard Easton the tenant from hell? A former guest star on The Real Housewives of New York City, he was accused earlier this month of throwing knives, streaking, and allowing his dog to defecate all over his ritzy NYC apartment building. His landlord took him to court, but now that the case has been dismissed for the time being, Easton is speaking out to RadarOnline.com to defend his honor — and reveal that he plans to sue over the claims.
Article continues below advertisement
"I am considering filing a $1M defamation of character lawsuit," Easton told RadarOnline.com in an exclusive interview. "This isn't the tenant from hell situation. This is the landlord from hell!"
READ What His Landlord's Lawyers Told The Judge
Easton says the entire feud has stemmed from the landlord's desire to boot him out of his lease and sell the pricey pad.
"I leased the apartment on April 1," Easton told RadarOnline.com. "A three-year lease for $11,500 a month. At the time, the apartment was for sale and for lease. I made it specifically clear to brokers on both sides, and to the landlord, that I wasn't going to rent at any price if they were going to put it on the market. Then on August 18, they served me 30 days' notice to vacate because they sold the apartment."
"I have $25,000 out in brokers fees to rent, a security deposit down, and I'm also paid through December," he said. "I said, look, as long as you give me ample time and reimburse my costs, I'll leave. So what did they do? They filed this trumped up case in court."
As RadarOnline.com has reported, Easton's landlord has accused him of letting his dog defecate on the building's roof, throwing knives, and worse — but Easton says he has an explanation for it all.
Article continues below advertisement
"Yes the dog did go to the bathroom on the roof, but I picked it up," he said. "It's gotta be a 6,000 square foot rooftop, and other people take their dogs up there, so it's not against the rules."
"The knife-throwing thing? I had a brunch at my house and we have big sliding doors," he said. "One of the guests dropped her plate off the second floor. The thing fell ten or fifteen feet and broke and didn't hurt anybody."
MORE ON:
Celebrity Justice
"Somebody called the police when the plate broke," he continued. "I asked to speak to the captain, and we went over to the captain and talked to him, and he said, 'Go home and just tell everybody to behave.'" No police report was filed.
"They've trumped everything up to sound like something it isn't in an effort to get me out of there," he said. "I've already said I'm going to move out by September 30, but that isn't good enough for them. They want me out of there by the 16th. Apparently that's the deal they have with selling the apartment."
Article continues below advertisement
"They want me to go yesterday, so then they trump up this case," he continued.
According to court papers obtained by RadarOnline.com, Easton and attorneys for his landlord, Elena Taranina, went before a judge on September 3. At that time, the judge denied the case without prejudice, which would allow the plaintiffs the opportunity to refile with proof of the allegations.
Meanwhile, Easton says he is contemplating taking legal action to clear his name.
"They don't have proof of what they're claiming," he said. "It's all hearsay."
"My previous apartment, I have a landlord letter from that apt owner says I left the place better than I got it, could re-rent any time I wanted to. I'm not a short term kind of renter," he claimed. "My reputation is at stake."
Story developing.