Nick Cannon Defends Marriage To Mariah Carey On Twitter, Says He Loves Her AND Calls Her An 'Amazing Mother'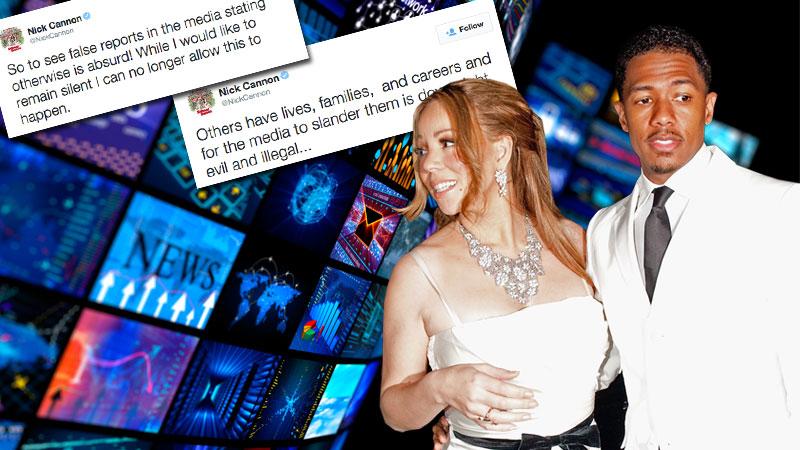 Even though Nick Cannon confirmed that there is "trouble in paradise" with wife Mariah Carey, the America's Got Talent host is taking back what he said – in a Twitter rant, of course.
The former Nickelodeon star claims in his tweets that he "never" made a statement regarding his marriage. But now the host is looking to clear the air regarding certain aspects of his private life.
Even though the famous couple reportedly have been living in separate places for a few months, Cannon reaffirmed the love he feels for his diva wife.
Article continues below advertisement
Not only does Cannon love his wife "unconditionally," he also feels indebted to her because she gave him their two children, twins Moroccan and Monroe. It seems that the Wild 'N Out star will be there for his wife until the very end as he defended her against those he has heard slandering the "Hero" singer.
As RadarOnline.com previously reported, Carey and Cannon's split seemed imminent after sources revealed the couple has been "fighting a lot." A source also told RadarOnline.com that Cannon's gigs across the country added to the couple's marital woes.
"He was in moderate spirits," a source who recently spent time with Cannon revealed. "You could tell that he definitely had something on his mind. The issue is that Nick and Mariah don't trust each other.
"Mariah thinks that when Nick travels that he cheats on her! Mariah is super jealous and things are clearly not good between them," the insider added.
To read the entirety of Cannon's Twitter diatribe, click here.
What do you think of Nick Cannon's Twitter rant? Sound off in the comments below…