Exclusive
Alleged NFL Victims Of Abuse Will Reveal How NFL Commissioner Roger Goodell 'Failed Them'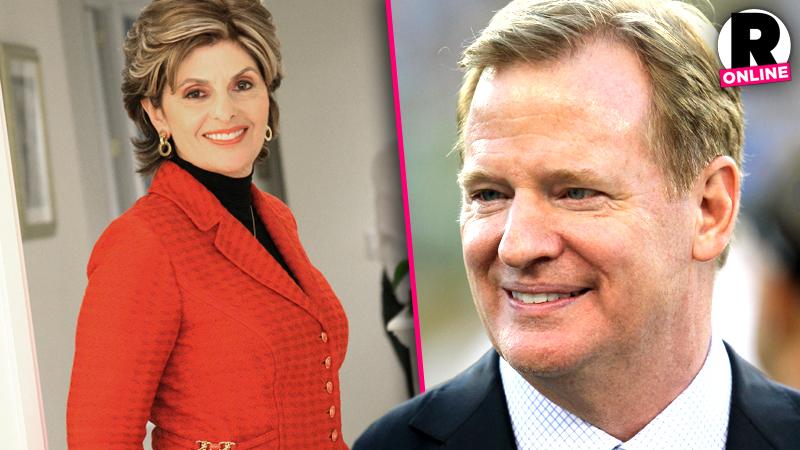 Famed attorney Gloria Allred and two individuals who will allege that they or a family member were victims of violence and abuse by an NFL player, will hold a news conference to reveal details of the violence and how embattled NFL Commissioner Roger Goodell failed them.
The victims and Gloria Allred will hold a press conference in Georgia on Wednesday afternoon to discuss their personal experiences.
Article continues below advertisement
NFL Commissioner Roger Goodell has come under intense scrutiny, and the National Organization of Women has demanded he resign, citing the league's handling of Baltimore Ravens Ray Rice's beating incident involving his then-girlfriend.
Initially, Goodell suspended Rice for two games, which outraged critics, even before surveillance footage of the football player punching his wife, Janay Rice, in the face, causing her to hit her head on a railing in the elevator and lose consciousness.
Rice was subsequently cut by the Ravens and suspended by Goodell indefinitely.
Goodell insisted during an interview with CBS' Norah O'Donnell, that he hadn't seen the shocking video.
"No one in the NFL, to my knowledge​, and I had been asked that same question and the answer to that is no. We were not granted that. We were told that was not something we would have access to.
"On multiple occasions, we asked for it. And on multiple occasions we were told no. I understand that there may be legal restrictions on them sharing that with us. And we've heard that from attorneys general and former attorneys general," Goodell revealed during the interview, which aired last week.
Article continues below advertisement
However, the Associated Press reported that a female NFL executive had received the video, and even called a law enforcement source to confirm receipt of it.
The NFL denied any staff member had received it, and said in a statement, "We have no knowledge of this. We are not aware of anyone in our office who possessed or saw the video before it was made public on Monday. We will look into it."
In a related story, early Wednesday, the Minnesota Vikings placed Adrian Peterson on the exempt-commissioner's permission list, sidelining him from the field and distancing him from the team, as he deals with ongoing felony child abuse allegations in his home state of Texas. The surprising announcement came less than two days after the team said it would reinstate the superstar rusher after he missed the team's second game of the year as news of the charges broke.
"While we were trying to make a balanced decision yesterday, after further reflection we have concluded that this resolution is best for the Vikings and for Adrian," Vikings owners Zygi and Mark Wilf said. "We want to be clear: we have a strong stance regarding the protection and welfare of children, and we want to be sure we get this right.
"At the same time we want to express our support for Adrian and acknowledge his seven-plus years of outstanding commitment to this organization and this community."
Peterson, nicknamed "All-Day" for his bruising consistency on the gridiron, is accused of injuring 4-year-old son severely after hitting him with a switch.